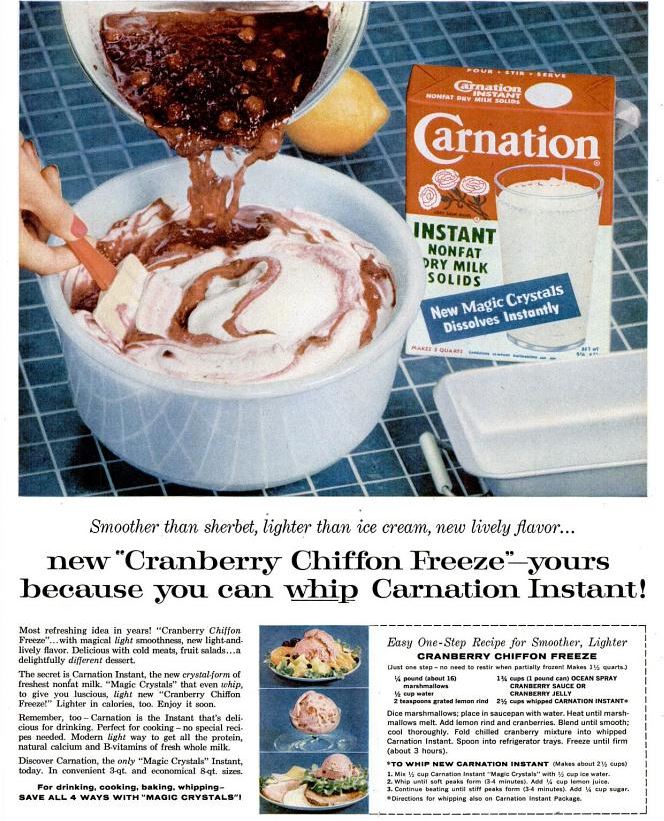 Smoother than sherbet, lighter than ice cream, new lively flavor…
Easy one-step recipe for smoother, lighter
Cranberry Chiffon Freeze
(Just one step-no need to restir when partially frozen! Makes 1 1/2 quarts.)
1/4 pound (about 16) marshmallows
1/2 cup water
2 teaspoons grated lemon rind
1 3/4 cups (1 pound can) Ocean Spray Cranberry Sauce or Cranberry Jelly
2 1/2 cups whipped Carnation Instant*
Dice marshmallows; place in saucepan with water. Heat until marshmallows melt. Add lemon rind and cranberries. Blend until smooth; cool thoroughly. Fold chilled cranberry mixture into whipped Carnation Instant. Spoon into refrigerator trays. Freeze until firm (about 3 hours).
*To whip Carnation Instant: (Makes about 2 1/2 cups)
1. Mix 1/2 cup Carnation Instant Magic Crystals with 1/2 cup ice water in bowl.
2. Beat until soft peaks form (3-4 minutes). Add 2 tablespoons lemon juice.
3. Continue beating until stiff peaks form (3-4 minutes longer). Gradually add 1/4 cup sugar.
Note: Magic Crystals is the original name of Nestle Carnation Instant Nonfat Dry Milk. It was introduced in 1954.