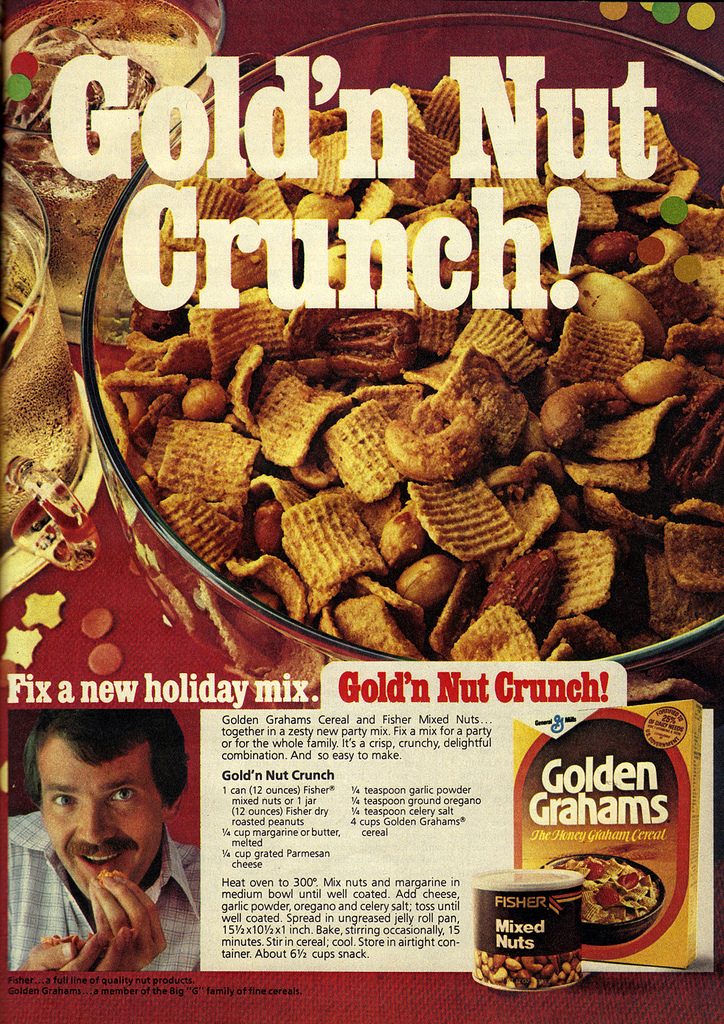 Gold'n Nut Crunch is a Golden Grahams Cereal snack mix similar to Chex Mix.
Tons of cereals were jumping on the party mix bandwagon in the 1970s. They really pushed these types of recipes at holiday time. You might remember Cheerios  and other cereals with their own take on the party/snack mix craze, too.
Golden Grahams are sweet, so getting past the fact that this snack mix has Garlic powder, Parmesan cheese, Oregano and Celery salt as ingredients might be hard for some folks.
Golden Graham Cereal and Fisher Mixed Nuts…together in a zesty new party mix. Fix a mix for a party or for the whole family. It's a crisp, crunch, delightful combination. And so easy to make.
Gold'n Nut Crunch (Golden Grahams Snack Mix)
1 can (12 ounces) Fisher Mixed Nuts or 1 jar (12 ounces) Fisher dry roasted peanuts
1/4 cup margarine or butter, melted
1/4 cup grated Parmesan cheese
1/4 teaspoon garlic powder
1/4 teaspoon ground oregano
1/4 teaspoon celery salt
4 cups Golden Grahams cereal
Heat oven to 300 degrees F. Mix nuts and margarine in medium bowl until well coated. Add cheese, garlic powder, oregano and celery salt;toss until well coated. Spread in ungreased jelly roll pan, 15 1/2 x 10 1/2x 1 inch. Bake, stirring occasionally, 15 minutes. Stir in cereal;cool. Store in an airtight container. About 6 1/2 cups snack.
Anyone want to guess what's in the glasses/mugs in the image?
If you're not into a savory Golden Grahams recipes, here's a recipe for Peanut Butter Golden Grahams Popcorn Bark
What other cereals have you used to make snack mix?
Here's a 1980s Golden Grahams commercial. Using the song "Happy Together."