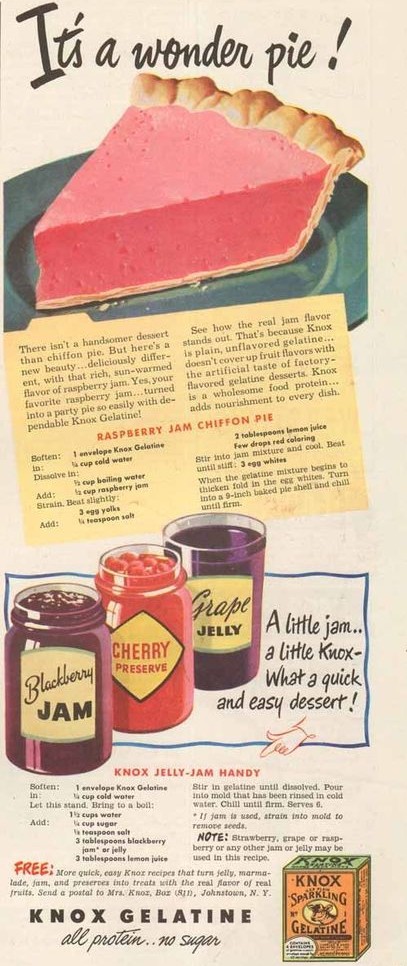 There isn't a handsomer dessert than chiffon pie. But here's a new beauty…deliciously different, with that rich, sun-warmed flavor of raspberry jam. Yes, your favorite raspberry jam…turned into a party pie so easily with dependable Knox Gelatine!
See how the real jam flavor stands out. That's because Knox is plain, unflavored gelatine…doesn't cover up fruit flavors with the artificial taste of factory-flavored gelatine desserts. Knox is a wholesome food protein…adds nourishment to every dish.
Raspberry Jam Chiffon Pie
Soften: 1 envelope Knox Gelatine
In: 1/4 cup water
Dissolve in: 1/2 cup boiling water
Add: 1/2 cup raspberry jam
Strain. Beat slightly: 3 egg yolks
Add: 1/4 teaspoon salt
2 tablespoons lemon juice
Few drops red coloring
Stir into jam mixture and cool. Beat until stiff. 3 egg whites.
When the gelatine mixture begins to thicken, fold in the egg whites. Turn into a 9-inch baked pie shell and chill until firm.
Knox Jelly-Jam Handy
Soften: 1 envelope Knox Gelatine
inL 1/4 cup water
Add: 1/4 cup sugar
1/4 teaspoon salt
3 tablespoons blackberry jam* or jelly
Stir in gelatine until dissolved. Pour into mold that has been rinsed in cold water. Chill until for. Serves 6.
*If jam is used, strain into mild to remove seeds.
Note: Strawberry, grape or raspberry or any other jam or jelly may be used in this recipe.