Homemade gift wrapping
It can be simple and elegant.
Wrapping gifts can be as expensive as the gift itself. How did this whole business of gift wrap get started? In 1917 the Hall Brothers' stationery store ran out of tissue sheets commonly used for wrapping gifts. As a quick solution, they brought out decorative French envelope lining papers from their manufacturing plant and offered them for 10 cents a sheet. Customers loved them and bought out the supply, both that year and the next. Thus Hallmark started the business of gift wrap. Gift wrap is a $3-billion retail market now, according to estimates by Hallmark.
Wrapping paper seems so wasteful because it's ripped apart and then thrown away. And yet, we still want to make our gifts presentable.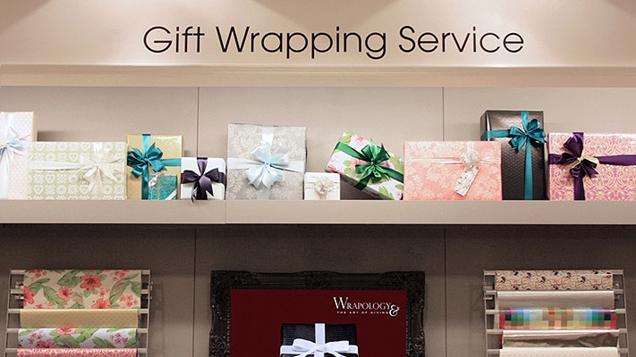 Remember the days when most retailers offered free gift wrapping? Not many retailers still offer this. You're supposed to be thankful if they don't charge you for a gift box, too.
Thankfully, there are many homemade DIY homemade gift wrapping options.
I've compiled a list of vintage inspired homemade and creative gift wrap ideas that have modern flair. They start out fairly plain and the embellishments make them unique. These creative homemade gift wrapping ideas make some, if not all the wrapping part of  the gift. While the gift basket and money gift ideas at the end aren't old fashioned, they are simple and practical, so I decided to include them, too. Best of all, during a holiday that has so much commercialization, these ideas are a throwback to a simpler time, but have an added elegance that makes them stand out and they aren't easily thrown away. Some of these gift wrap items can be found around your house, too.
Paper:
Don't just wrap the gift with newspaper and Scotch tape. Just because you can, doesn't mean you should. You can decorate and adorn the wrapping with trimmings, so it doesn't look tacky.
Types of paper to use to wrap gifts can include maps, old calendar pictures, coloring pages, brown or white paper bags, butcher or craft paper, vintage sheet music, crosswords, magazines, large or small envelopes and wallpaper. While not paper, you can even use aluminum foil!
Credits:
Ties:
Use twine, ribbon, decorative duct tape, raffia, shoelaces, wire, garland, strips of fabric such as burlap or cotton (can cut with pinking shears if you want), lace, rick rack or yarn to tie it. And then accessorize away.
Credits:
Bows:
To learn to make a bow, visit www.offray.com/howto.html. If you're still having trouble, simply make a two-loop bow and keep it together using a pipe cleaner. Tie them onto your staircase balusters, chairs, tree, etc. Reuse magazines by making paper bows for gifts, too. For directions, visit www.howaboutorange.blogspot.com/2009/10/make-gift-bow-from-magazine-page.html.
Can use pom poms, wax paper bows, ribbon roses, balloons, etc.
Credits:
25 bow ideas:
http://asubtlerevelry.com/25-homemade-bow-tutorials
Fabrics:
The dollar stores sell cheap tablecloths. You can use that to wrap a large gift item. You could make reusable, draw-string fabric gift bags, too. If the recipient is an immediate family member, you could reuse the fabric bags year-to-year; if it's not for immediate family, the bags can become part of the gift and the recipient can reuse them, too.
Types of fabrics to use can include cloth napkins, shirts, pillow cases, reusable cloth/canvas bags, scarves, handkerchiefs, new or vintage fat quarters, and dish towels.
Visit joybucket.blogspot.com/2008/11/wrappadappadoo-reusable-gift-wrap.html for a wonderful tutorial on how to make gift wrap from a recycled sheet or cotton fabric and ribbon. Or try Wrapagami or Japanese furoshiki, which shows you how to take ordinary fabric and create beautiful gift wrap. Jenn Playford, author of Wrapagami (photo of shirt gift wrap)
Credits:
20 different paper flowers:
http://thecraftyblogstalker.com/how-to-make-20-different-paper-flowers/
Decorate and add gift tags:
Use Rubber stamps, shipping labels, office labels, hang tags, or reuse greeting cards and custom cut the way you want.
Containers:
Be creative with containers. Consider using tins, jars, water bottles, clay pots, bowls, baskets, purses, bakery or floral boxes, Takeout food containers, Ziploc food containers, shoeboxes, or even reuse items such as Pringles or powdered drink mix containers, cereal boxes or potato chip bags.
Credits:
Hobby/Special Interest ideas:
Garden Lovers:
A watering can or flowerpot makes a great container for smaller gifts such as seeds, garden tools, an outdoor thermomoter, hand lotion and plants.
Bookworms:
Stock a tote bag with a book, bookmark, audio book, teas, candy and/or a lottery ticket.
Cooks:
Use a dishtowel, basket or mixing bowl to contain smaller items such as cooking gadgets, a cookbook, recipe cards, cookie cutters, etc.
Movie buff:
Tins can be filled with packaged popcorn, candy and a DVD.
Kids:
Sand pails are easy-to-fill containers for dollar-store toys, activity books, bubbles, chalk and jump ropes.
School aged:
Backpacks or purses can hold CDs, hair accessories, T-shirts, cosmetics and gift cards.
Young adults:
Give an ice-cream-sundae basket. Fill it with an ice-cream scoop, maraschino cherries, whipped cream, sprinkles, ice-cream syrups, spoons, nuts and bowls. Another idea is to fill a trash can with cleaning supplies, paper supplies, trash bags, a broom, a dustpan and common hand tools.
College age or young adult:
A laundry basket or bag filled with a roll of quarters, laundry soap, dryer sheets, nonperishable foods and phone cards. Pillowcase filled with new sheets, bath towels, blankets.
For men:
A bucket full of car-wash supplies such as air fresheners, a glass cleaner, an ice scraper and car wax.
Fishing enthusiast:
Fill a tackle box with lures, hooks, fishing magazines and snacks.
Camping fans:
Cooler filled with beverages, snacks, bug repellent, sunscreen, sunglasses, a utility knife, a first-aid kit and a map.
School aged:
An insulated lunch box with small school supplies, such as pencils, glue sticks, markers and scissors.
Pet lovers:
Fill a pet bowl with treats, toys, a collar, pet nail clippers and a brush.
Credits:
Additional tips:
– Use colored cellophane instead of clear if you want the contents to be more of a surprise.
– Embellish with small, tuckable items such as silk flowers, loose candies, pinecones, mixed shelled nuts, bath beads or votive candles.
– Place heavier, taller items in the center of your container so it's well-balanced.
– Use fillers such as tissue paper, shredded excelsior or cellophane and linens.
But what about cash gifts?
Money can be a great gift: You know the recipient will use it. But you can be more thoughtful and creative than simply sticking it in a card or stuffing it in a plain envelope. Jazz it up by wrapping it in a more personalized and fun way. How have you given cash as a gift?
Here are a few fun ideas.
Inside a book or calendar:
You can slip money into various pages of a book. Use paper clips so it doesn't fall out. Or tape money inside of a magazine or onto each month of a calendar.
In a box:
Use a cereal box, candy box (M&M Minis tubes are great for holding quarters), juice box, deck of cards, etc., as a fun way to wrap your gift. You can place a box inside a box inside a box to disguise it, or add shredded paper to a shoebox, roll dollar bills and tie them, and put them in the box hidden in the shredded paper. One reader, Paula from Kentucky, shares: "A couple of years ago, I got $100 in fives, pulled all the tissues out of a small, cubed tissue box, taped the fives end to end, rolled them up, stuffed them in the tissue box and taped a tissue to the end of the money roll. I made sure the tissue hung out slightly from the box. I found one of those plain white labels and wrote: 'It SNOT your regular tissue.' Imagine my son's confusion when he opened his beautifully wrapped gift and found a box of tissues! I said, "I'm sure you could just cry, go ahead and grab a tissue." Now, imagine his surprise when he grabs the tissue and out comes money! Last year, I bought a 100 count box of security envelopes, put a $100 bill in one, then put it back into the box with the other envelopes."
Wrapped in clothing:
Tuck money into items such as gloves, socks, a hat, shoes or slippers.
Fold it up:
There are many money origami directions for making money roses, shirts, rings, butterflies, etc. Visit www.members.cox.net/crandall11/money and www.lisashea.com/japan/origami/index.html.
4-, 6- OR 12-pack beverages:
Tape money onto bottles of drinks that come in pack carriers. It's hidden from plain sight, but can be seen when lifted from the packaging. Empty bottles such as Starbucks frappuccino bottles and their cardboard carriers can be decorated and filled with candies and small gifts including money.
Clear ornaments:
Wrap the money around a pen or roll it in your hands, and use a tweezer to place it into a clear glass ornament.
On a roll:
Unroll a roll of toilet paper or paper towels. Print or buy fake money and tape it along with real dollar bills intermittently on a roll of toilet paper or paper towels. Roll it back up and tie a ribbon around it and a bow on top, or wrap it in wrapping paper. Or roll it inside the roll and cut a slot to pull it.
Miscellaneous Containers:
Money can be placed into empty containers, such as shampoo bottles, under a candy bar wrapper, in an egg carton (you can reuse plastic Easter eggs), in a jar or a picture frame, etc.
Credits:
Money gift hidden in toilet paper roll
But maybe you want to opt out of using gift wrap entirely. Why not try a fun treasure hunt?
Tuck a clue written on paper in an envelope. Create a series of clues, each one hidden in a location prompted by the previous clue. At the final location, hide the gift. http://www.mastersofthehunt.com/christmas-scavenger-hunt.php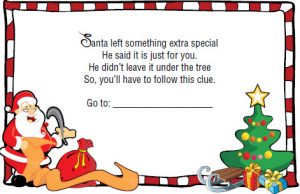 Additional Gift wrapping ideas:
http://www.homedit.com/27-creative-gift-wrapping-ideas-for-christmas/
http://letswrapstuff.com/
What are your favorite homemade gift wrapping ideas?
Featured photo Oana Befort