Whether it's to protect a recipe and brand from copycats or for health reasons/demand from consumers, many brand products have changed recipes. Sometimes these changes are announced and other times, they make the switch without saying much of anything.
Here are a few brand products that have changed. And not always for the better taste-wise!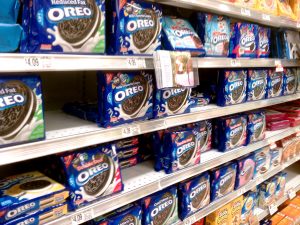 Oreos: The oreos of my childhood were tasty. Now they don't have the same delicious cookie or creamy filling. Bye bye trans-fats (which is a good thing, but not so delicious).  I don't even enjoy them anymore and would be fine never buying another oreo again. The cookie used to contain pig lard, so I am happy that they can be considered kosher (and vegan for that matter). But apparently the secret recipe for the white creamy center is still very important.
The fat content of Oreos has changed at least twice. First from lard to trans fats, then from trans fats to high oleic vegetable oils.
I do think it's great that they have so many new varieties to choose from and continue to roll out Limited Edition varieties. My kids begged for the birthday cake and the peanut butter flavored Oreos. And then Halloween Oreos were only $1.49 the day after Halloween, so I caved. sigh.
Hellman's Mayonnaise: I noticed this right away when I opened the container. It seemed thin, separated, just different. It didn't taste or feel as creamy. I used to never buy other brand mayos. I'm now trying others to compare which I prefer. Hellman's really had something special.
Many complaints on this change in formula. Read the Hellman's Mayonnaise reviews on their website, too.
Mcdonald's (many items such as fries, the apple pie, orange drink,  etc): The fried apple pie was phased out in 1992. And they now have baked apple pies. The trans-fat french fries were phased out in 2007. But there still seems to be some confusion on whether or not they're vegetarian.
The orange drink when I was a kid was called orange drink and now it's Hi-C and doesn't taste the same, but I'm unsure if Hi-C changed or if Mcdonald's changed their orange drink to Hi-C.  Looks like in some locations, there isn't any orange drink at all.  The secret sauce changed, too. I did find an article with a recipe to make your own Mcdonald's secret sauce. And I see they switched ketchup suppliers, too.
Dannon yogurt: They lost me a while ago, but their yogurt formula definitely changed. I know consumers have filed numerous complaints, but their yogurts aren't even close to how they  used to be. I loved the fruit on the bottom from years ago and by years ago, I mean like 14 years ago. Remember the old style containers? Now the containers crush way too easily and the yogurt just doesn't taste the same. I understand the pressure from consumers and I also understand trying to compete with Yoplait (a favorite in our house) and other yogurt brands, but I don't like any of their yogurt products now. They tried to reinvent the fruit on the bottom, but it's pitiful. Of course, this is my opinion.
Dominos Pizza: While rolling out new menu items, they also changed their pizza recipe. This is one instance where I think this was a big improvement. I like their pizza now. Years ago, I just liked that their delivery was fast, but I wasn't a fan of their pizza. Now with cheaper competitors like Little Caesars, Dominos is a luxury pizza. haha. Papa Johns is pretty much the pizza place to frequent in our city because they give a percentage to the local schools when pizza is bought on certain days. But I'll admit that when I first moved from NY to MI and had Papa Johns for the first time, I cried. I thought it was the worst pizza I had ever tasted. But I guess, I've acclimated to the midwest because it's not so bad to me now.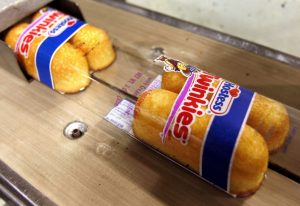 Twinkies: I guess people should be happy that twinkies are still around. But wow, I bought some out of curiosity and they don't even taste at all the way I remembered. They're smaller, too. I know they've increased the shelf life, so obviously there's been some changes. As a kid, I would ask for a box instead of a birthday cake for my birthday. I just loved them. Now, no thank you. I don't think I'll ever buy Twinkies again. Not even for my kids. These are not the Twinkies I remember from my childhood. 
I'll stop here, but I know tons more. So many more, that I think it's possible that nothing stays the same. 🙁  But change is better than discontinuing.
What brand products do you know have changed their recipes? Do you like the taste better or not?
Is it me or have even Girl Scout cookies  changed?