3 Walnut Cookie Recipes!
New cookies, quick cookies, old favorites, too!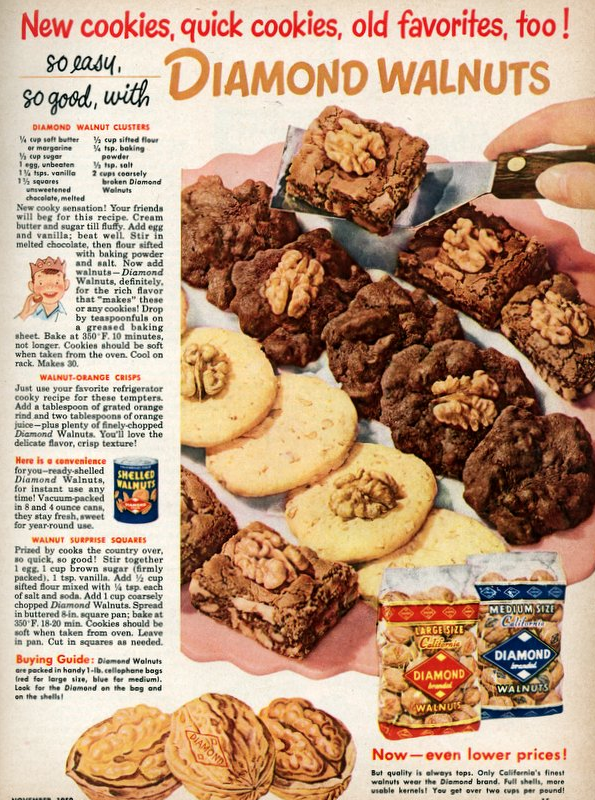 Diamond Walnut Clusters
1/4 cup soft butter or margarine
1/2 cup sugar
1 egg, unbeaten
1 1/4 teaspoons vanilla
1 1/2 squares unsweetened, chocolate, melted
1/2 cup sifted flour
1/4 teaspoon baking powder
1/2 teaspoon salt
2 cups coarsely broken Diamond Walnuts
New cookie sensation! Your friends will beg for this recipe. Cream butter and sugar till fluffy. Add egg and vanilla; beat well. Stir in melted chocolate; then flour sifted with baking powder and salt.
Now add walnuts-Diamond walnuts, definitely for the rich flavor that "makes" these or any cookies! Drop by teasponfuls on a greased baking sheet. Bake at 350 degrees F. 10 minutes, not longer. Cookies should be soft when taken from oven. Cool on rack. Makes 30.
Walnut-Orange Crisps
Just use your favorite refrigerator cookie recipe for these tempters. Add a tablespoon of grated orange rind and two tablespoons of orange juice-plus plenty of finely-chopped Diamond Walnuts. You'll love the delicate flavor, crisp texture!
Walnut Surprise Squares
Prized by cooks the country over, so quick, so good! Stir together 1 egg, 1 cp brown sugar (firmly packed), 1 teaspoon vanilla. Add 1/2 cup sifted flour mixed with 1/4 teaspoon each of salt and soda. Add 1 cup coarsely chopped Diamond Walnuts. Spread in buttered 8-inch square pan; bake at 350 degrees . 18-20 minutes. Cookies should be soft when taken from oven. Leave in pan. Cut in squares as needed.
Here are more Diamond Nuts Recipes.