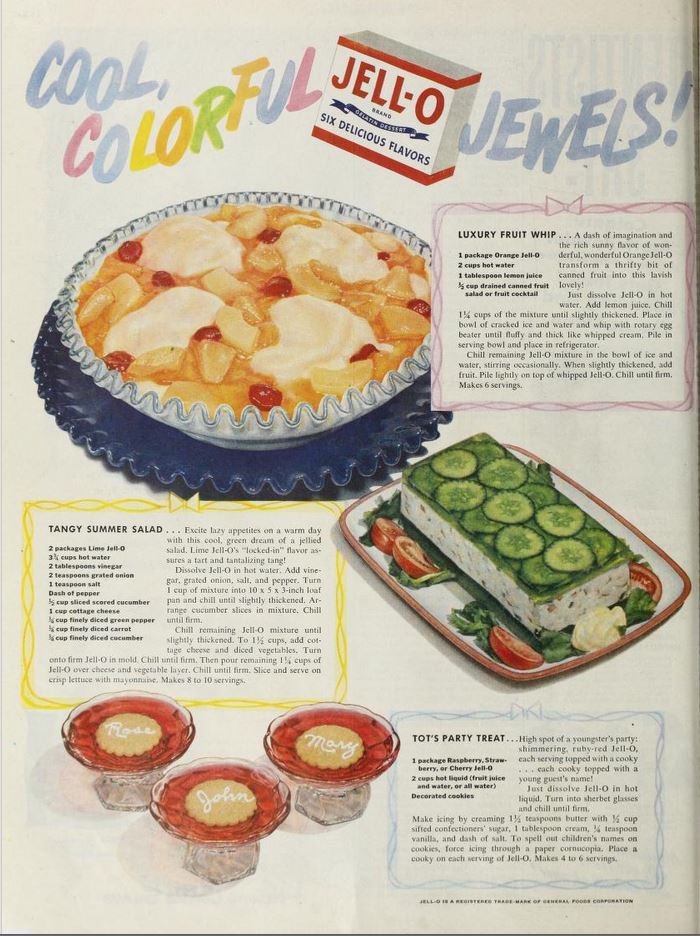 3 Vintage Jell-O Recipes
Cool Colorful Jewels
Luxury Fruit Whip
A dash of imagination and the rich sunny flavor of wonderful, wonderful Orange Jell-O transform a thrifty bit of canned fruit into this lavish lovely!
1 package Orange Jell-O
2 cups hot water
1 tablespoon lemon juice
1/2 cup drained canned fruit salad or fruit cocktail
Just dissolve Jell-O in hot water. Add lemon juice. Chill 1 1/4 cups of the mixture until slightly thickened. Place in bowl of cracked ice and water and whip with rotary egg beater until fluffy and thick like whipped cream. Pile in serving bowl and place in refrigerator.
Chill remaining Jell-O mixture in the bowl of ice and water, stirring occasionally. When slightly thickened,add fruit. Pule lightly on top of whipped Jell-O. Chill until firm. Makes 6 servings.
Tangy Summer Salad
Excite lazy appetites on a warm day with this cool, green dream of a jellied salad. Lime Jell-O's locked-in flavor assures a tart and tantalizing tang!
2 packages Lime Jell-O
3 1/4 cups hot water
2 tablespoons vinegar
2 teaspoons grated onion
1 teaspoon salt
Dash of pepper
1/2 cup sliced scored cucumber
1 cup cottage cheese
1/4 cup finely diced green pepper
1/4 cup finely diced carrot
1/4 cup finely diced cucumber
Dissolve Jell-O in hot water. Add vinegar, grated onion, salt and pepper. Turn 1 cup of mixture into 10x5x3-inch load pan and chill until slightly thickened. Arrange cucumber slices in mixture. Chill until firm.
Chill remaining Jell-O mixture until slightly thickened. To 1 1/2 cups, add cottage cheese and diced vegetables. Turn onto firm Jell-O in mold. Chill until firm. Then pour remaining 1 1/4 cups of Jell-O over cheese and vegetable layer. Chill until firm. Slice and serve on crisp lettuce with mayonnaise. Makes 8-10 servings.
Tot's Party Treat
High spot of youngster's party; shimmering, ruby-red Jell-O, each serving topped with a cookie…each cookie topped with a young guest's name!
1 package Raspberry, Strawberry or Cherry Jell-O
2 cups hot liquid (fruit juice and water or all water)
Decorated cookies
Just dissolve Jell-O in hot liquid. Turn into sherbet glasses and chill until firm.
Make icing by creaming 1 1/2 teaspoons butter with 1/2 cup sifted confectioners' sugar, 1 tablespoon cream, 1/4 teaspoon vanilla, and dash of salt. To spell out children's names on cookies, force icing through a paper cornucopia. Place a cookie on each serving of Jell-O. Makes 4-6 servings.
Every home cook should have a few recipes that call for secret ingredients. Not like Aunt June's mystery meat or your sister-in-law's clean-out-the-fridge casseroles. You want recipes that family and friends hound you for. Gelatin is the secret ingredient that helps make wonderfully different desserts. It's not just for crunchy, congealed salads anymore. Just about everyone has a gelatin story, so you can wax nostalgic, too.
Here are a few more Jell-O recipes.
No-Bake Strawberry Dessert
1 (6-ounce) package strawberry-flavored gelatin
32 ounces unsweetened applesauce
24 graham crackers
1 (12-ounce) container frozen whipped topping, thawed
Combine powdered gelatin with applesauce. Place four whole-graham-cracker sheets, lengthwise and touching, in a single layer in a serving dish. Using a rubber spatula, spread a heaping 1/2 cup of applesauce mixture over the crackers. Repeat layers five times. Frost with whipped topping. Chill in refrigerator overnight and slice crosswise to serve.
Optional: Reserve a teaspoon of powdered gelatin to sprinkle over whipped topping before chilling.
Gelatin Pressed Cookies
3/4 cup butter, softened
1/2 cup sugar
1 package (3 ounces) gelatin, any flavor
1 egg
1/2 teaspoon vanilla extract
1-3/4 cups flour
1/2 teaspoon baking powder
In a large mixing bowl, cream butter, sugar and gelatin. Add egg and vanilla. Gradually add flour and baking powder. Mix well. Using a cookie press with disk of choice, press dough onto baking sheet. Add sugar and sprinkles. Bake at 400 F for 8 minutes. You can convert this into drop cookies by following the recipe below.
Optional: colored sugar and sprinkles.
Gelatin Drop Cookies
3/4 cup margarine or butter
1/2 cup sugar
1 (3 ounce) package gelatin, any flavor
2 eggs
1 teaspoon vanilla
2-1/2 cups flour
1 teaspoon baking powder
1/2 teaspoon salt
In a large bowl, cream together margarine, sugar, gelatin powder and eggs. Add remaining ingredients and mix well. Roll dough into walnut-sized balls and place on a greased and floured cookie sheet. Flatten each with fork tines. Bake 8 minutes at 350 F.
Hawaiian Poke Cake
1 (18-ounce) box yellow-cake mix
1 (3-ounce) box gelatin, any flavor
2 (20-ounce) cans crushed pineapple, drained and juice reserved
1 (3.4-ounce) package instant-vanilla-pudding mix
1 (8-ounce) package cream cheese
1 (8-ounce) container frozen whipped topping, thawed
1/2 cup flaked coconut
Prepare cake according to package directions, substituting drained pineapple juice for the water. Allow to cool completely in pan. Using a wooden spoon handle, poke holes all over the top of the cake through to the bottom. Prepare gelatin according to package instructions, but don't chill to set. Pour gelatin slowly over the entire surface of the cooled cake. Spread drained pineapple on top of cooled cake. Prepare pudding as per package directions and set aside. In a medium bowl, beat cream cheese until softened and smooth. Mix in the pudding. Fold in the whipped topping. Spread evenly over the pineapple. Sprinkle top with coconut. Chill cake overnight.
Cook's note: Not a fan of coconut or pineapple? Leave it out.