The most happy cookies! Party Cookies!
Gay Colors…Easy to make with Robin Hood Flour and m&m's.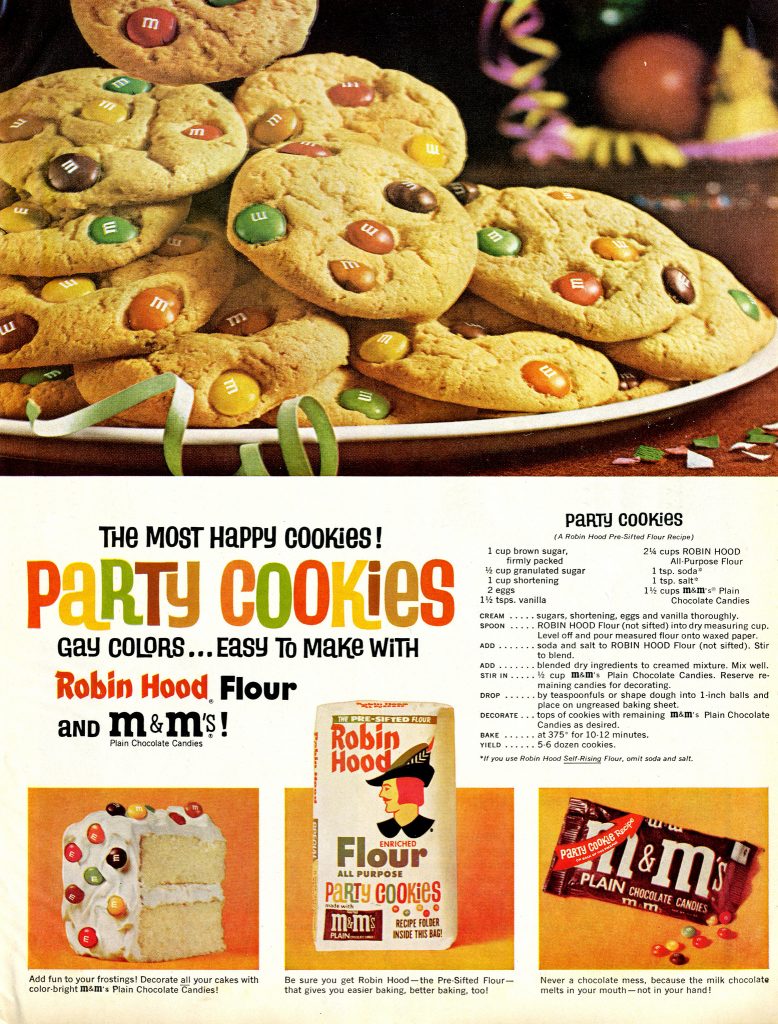 Party Cookies
1 cup brown sugar, firmly packed
1/2 cup granulated sugar
1 cup shortening
2 eggs
1-1/2 teaspoons vanilla
2-1/4 cups Robin Hood all-purpose flour
1 teaspoon baking soda
1 teaspoon salt
1-12 cups m&ms plain chocolate candies
CREAM….sugars, shortening, eggs and vanilla thoroughly.
SPOON….Robin Hood Flour (not sifted) into dry measuring cup. Level off and pour measured flour onto waxed paper.
ADD………soda and salt to Robin Hood Flour (not sifted). Stir to blend.
ADD………blended dry ingredients to creamed mixture. Mix well.
STIR IN….1/2 cup m&ms Plain Chocolate Candies. Reserve remaining candies for decorating.
DROP…….by teaspoonfuls or shape dough into 1-inch balls and place on ungreased baking sheet.
BAKE……..at 375 degrees F for 10-12 minutes.
YIELD…….5 to 6 dozen cookies.
Here are more m&m's ideas