Old-Fashioned Fruit Pie Recipe
Crisco's Sure-Fire Pastry Method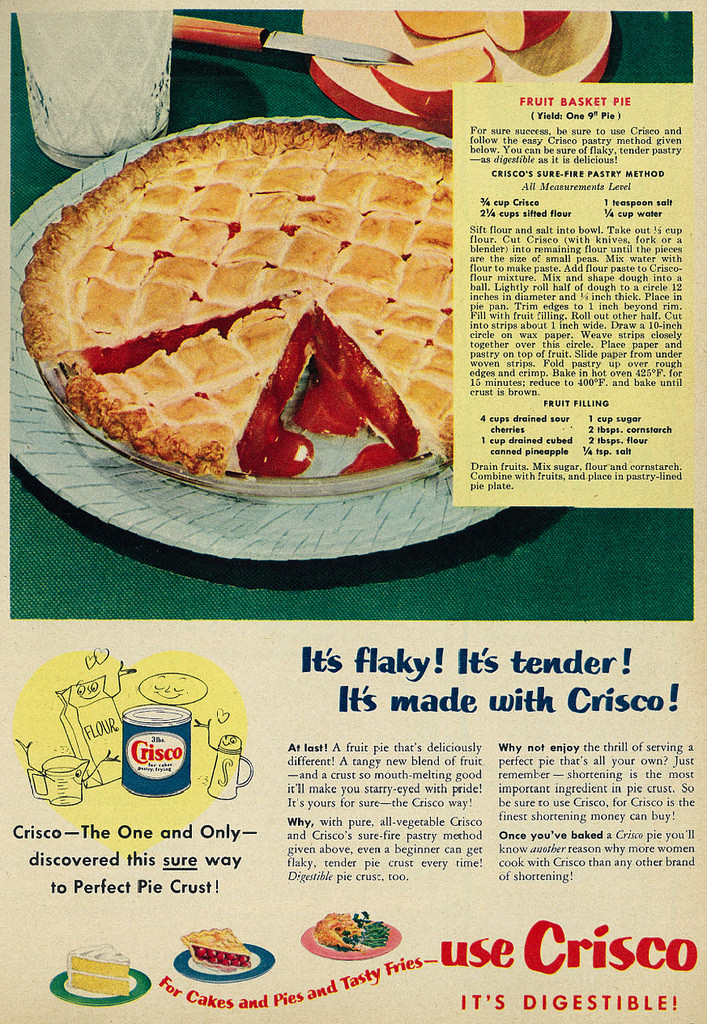 For sure success, be sure to use Crisco and follow the easy Crisco pastry method given below. You can be sure of flaky, tender pastry-as digestible as it is delicious.
Old-Fashioned Fruit Pie
Crisco's Sure-Fire Pastry Method
All Measurements Level
3/4 cup Crisco
2 1/4 cups sifted flour
1 teaspoon salt
1/4 cup water
Sift flour and salt into bowl. Take out 1/3 cup flour. Cut Crisco (with knives, fork or a blender) into remaining flour until the pieces are the size of small peas.
Mix water with flour to make paste. Add flour paste to Crisco Flour mixture. Mix and shape dough into a ball. Lightly roll half of dough to a circle 12 inches in diameter and 1/8 inch thick.
Place in pie pan. Trim edges to 1 inch beyond rim. Fill with fruit filling. Roll out other half. Cut into strips about 1 inch wide.
Draw a 10-inch circle on wax paper. Weave strips closely together over this circle. Place paper and pastry on top of fruit. Slide paper from under woven strips.
Fold pastry up over rough edges and crimp. Bake in hot oven 425 degrees F. for 15 minutes;reduce to 400 degrees F. and bake until crust is brown.
Fruit Filling
4 cups drained sour cherries
1 cup drained cubed canned pineapple
1 cup sugar
2 tablespoons cornstarch
2 tablespoons flour
1/4 teaspoon salt
Drain fruit. Mix sugar, flour and cornstarch. Combine with fruits and place in pastry-lined pie plate.
It's flaky! It's tender! It's made with Crisco!
At last! A fruit pie that's deliciously different! A tangy new blend of fruit-and a crust so mouth-melting good it'll make you starry-eyed with pride!
It's yours for sure-the Crisco way!
Why, with pure, all-vegetable Crisco and CRisco's sure-fire pastry method given above, even a beginner can get flaky, tender pie crust every time!
Digestible pie crust, too.
Why not enjoy the thrill of serving a perfect pie that's all your own? Just remember-shortening is the most important ingredient in pie crust.
So be sure to use Crisco, for Crisco is the finest shortening money can buy!
Once you've basked a Crisco pie, you'll know another reason why more women cook with Crisco than any other brand of shortening!
 Enjoy this easy,  old fashioned pie recipe!
Here are some tips on rolling pastry dough.
Here are more Crisco recipes.