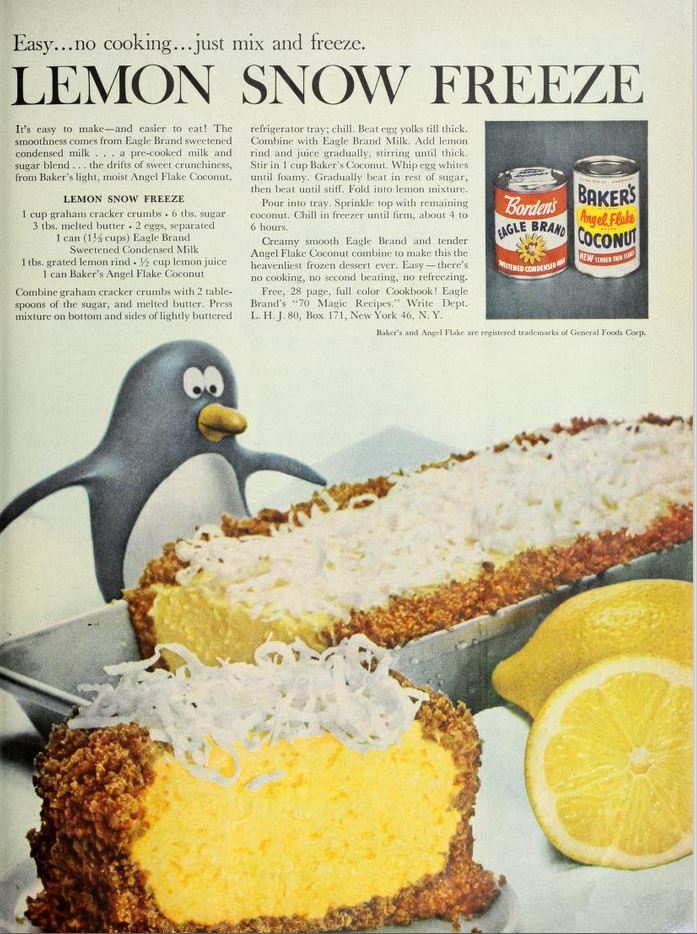 Easy…no cooking…just mix and freeze.
Lemon Snow Freeze
It's easy to make-and easier to eat! The smoothness comes from Eagle Brand's sweetened condensed milk…a pre-cooked milk and sugar blend…the drifts of sweet crunchiness, from Baker's light, moist Angel Flake Coconut.
Lemon Snow Freeze
1 cup graham cracker crumbs
6 tablespoons sugar
3 tablespoons melted butter
2 eggs, separated
1 can (1 1/3 cups) Eagle Brand Sweetened Condensed Milk
1 tablespoon grated rind
1/2 cup lemon juice
1 can Baker's Angel Flake Coconut
Combine graham cracker crumbs with 2 tablespoons of the sugar, and melted butter. Press mixture on bottom and sides of lightly buttered refrigerator tray; chill. Beat egg yolks till thick. Combine with Eagle Brand Milk.
Add lemon rind and juice gradually, stirring until thick.
Stir in 1 cup Baker's coconut. Whip egg whites until foamy. Gradually beat in rest of sugar, then beat until stiff. Fold into lemon mixture.
Pour into tray. Sprinkle top with remaining coconut. Chill in freezer until firm, about 4-6 hours.
Creamy smooth Eagle Brand and tender Angel Flake Coconut combine to make this the heavenliest frozen dessert ever. Easy-there's no cooking, no second beating, no refreezing.
Use up Lemons
Lemons are available year-round but peak from April through July. That's right about the time you look forward to enjoying the refreshingly tart taste in a variety of dishes and beverages. When selecting lemons, avoid any that are under-ripe and green. It should feel firm to the touch, have a smooth, finely grained peel and be heavy for its size. They can be stored for up to three weeks in the refrigerator. Lemon desserts are often requested by readers, so I'm sharing three and adding one for lemonade that is perfect to have on hand in your home or to give as a gift.
Lemon Bread
6 tablespoons margarine
1 cup sugar
2 eggs
1-1/2 cups flour
1 teaspoon baking powder
1/4 teaspoon salt
1/2 cup milk
rind of one lemon
1 tablespoon lemon juice
Glaze:
juice of 1 lemon (1/3 cup)
1/2 cup sugar
Freshly sliced strawberries, for topping
Preheat oven to 350 F. Grease and flour an 8-by-4-by-2-inch loaf pan. Cream margarine, sugar and eggs. Sift together flour, baking powder and salt; add to creamed mixture alternately with milk. Stir in lemon rind and 1 tablespoon juice. Pour into pan. Bake 45 to 50 minutes. Combine ingredients for glaze. Pour over bread while hot. Cool 10 minutes. Remove from pan. To serve, slice and place on dish with freshly sliced strawberries atop. — Darlene, New York
Lemon Butter Bars
Crust:
2 sticks butter
2 cups all-purpose flour
1/2 cup sugar
Mix all ingredients. Crumble and press evenly into 9-by-13-inch pan. Bake 20 minutes in preheated 350 F oven.
Filling:
2-1/4 cups sugar
4 tablespoons flour
1 teaspoon baking powder
4 eggs, slightly beaten
juice of 2 large lemons
grated rind of 2 lemons
1/8 teaspoon salt
powdered sugar, for topping
Mix sugar, flour and baking powder. Add to slightly beaten eggs, lemon juice, rind and salt. Pour this mixture over crust and bake 25 minutes. When cool, sprinkle top with powdered sugar. Cut into bars.
Lemon Muffins
1 cup flour
1 teaspoon baking powder
1/4 teaspoon salt
1/2 cup butter
1/2 cup sugar, plus 2 tablespoons
2 eggs, separated
3 tablespoons lemon juice
1 teaspoon grated lemon peel
1/4 teaspoon cinnamon
Preheat oven to 375 F. Sift flour, baking powder and salt. Cream butter and sugar until smooth and yellow. Add flour mixture alternately with lemon juice. Beat egg whites until stiff peaks form. Carefully fold in egg whites and lemon peels into batter. Fill greased muffin tins 2/3 full with batter. Combine 2 tablespoons sugar and cinnamon. Sprinkle 1/2 teaspoon over each muffin. Bake for 15 to 20 minutes.
Lemonade Syrup
3 cups lemon juice (juice from 5 pounds lemons)
1 cup boiling water
3 cups sugar
2 tablespoons grated lemons, rind of
In 2 quart bowl, add 1 cup water and microwave for 1 minute. Add sugar and stir to dissolve. Add lemon juice and grated peel. Stir. For 1 serving, mix 1/4 cup syrup and 3/4 cups water in glass. Add ice. For 1/2 gallon, add 2-2/3 cups syrup and 5 cups water. Stir.