Old fashioned bread recipe from Pillsbury.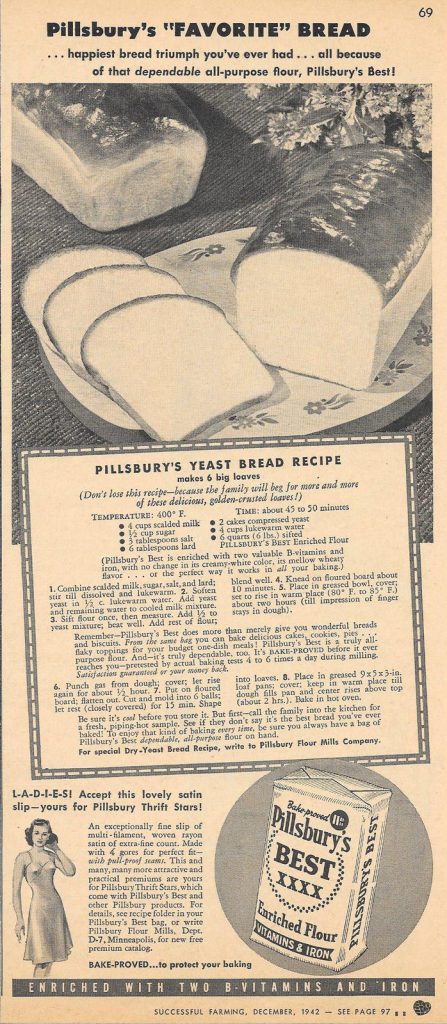 Pillsbury's "Favorite" Bread
…happiest bread triumph you've ever had…all because of that dependable all-purpose flour, Pillsbury's Best!
Pillsbury's Yeast Bread Recipe
Makes 6 big loaves
(Don't lose this recipe-because the family will beg for more and more of these delicious, golden-crusted leaves!)
Temperature: 400 degrees F. TimeL about 45-50 minutes
4 cups scalded milk
1/2 cup sugar
3 tablespoons salt
6 tablespoons lard
2 cakes compressed yeast
4 cups lukewarm water
6 quarts (6 lbs.) sifted Pillsbury's Best Enriched Flour
(Pillsbury's Best is enriched with two valuable B-vitamins and iron, with no change in its creamy-white color, its mellow wheat flavor…or the perfect way it works in all your baking.)
1. Combine scalded milk, sugar, salt, and lard; stir till dissolved and lukewarm.
2. Soften yeast in 1/2 cup lukewarm water. Add yeast and remaining water to cooled milk mixture.
3. Sift flour once, then measure. Add 1/2 to yeast mixture; beat well. Add rest of flour; blend well.
4. Knead on floured board about 10 minutes.
5. Place in greased bowl, cover; set to rise in warm place (80 degrees F. to 85 degrees F.) about two hours (till impression of finger stays in dough).
Remember-Pillsbury's Best does more than merely give you wonderful breads and biscuits. From the same bag, you can bake delicious cakes, cookies, pies…flaky toppings for your budget one-dish meals! Pillsbury's Best is a truly all-purpose flour. And-it's truly dependable, too. It's Bake-Proved before it ever reaches you-pretested by actual baking tests 4-6 times a day during milling. Satisfaction guaranteed or your money back.
6. Punch gas from dough; cover; let rise again for about 1/2 hour.
7. Put on floured board; flatten out. Cut and mold into 6 balls; let rest (closely covered) for 15 minutes. Shape into loaves.
8. Place in greased 9 x 5 x 3-inch loaf pans; cover; keep in warm place till dough fills pan and center rises above top (about 2 hours). Bake in hot oven.
Be sure it's cool before you store it. But first-call the family into the kitchen for a fresh, piping hot sample. See if they don't say it's the best bread you've ever baked! To enjoy that kind of baking every time, be sure you always have a bag of Pillsbury's Best dependable, all-purpose flour on hand.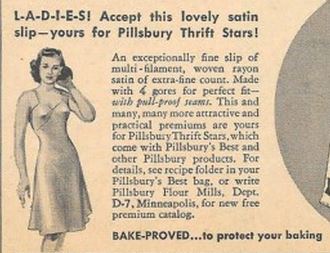 Premium values you can get with Pillsbury Thrift Stars, which come with Pillsbury Best and other Pillsbury products. For details see recipe folder in your Pillsbury's Best bag.
Pillsbury Thrift Stars could be collected for items such as dinnerware, war savings stamps, coffee makers, cast aluminum ware, silverware, Boy Scout knives, watches, fountain pens, lanterns, aprons, stockings, etc.
Here are more Pillsbury Baking recipes.