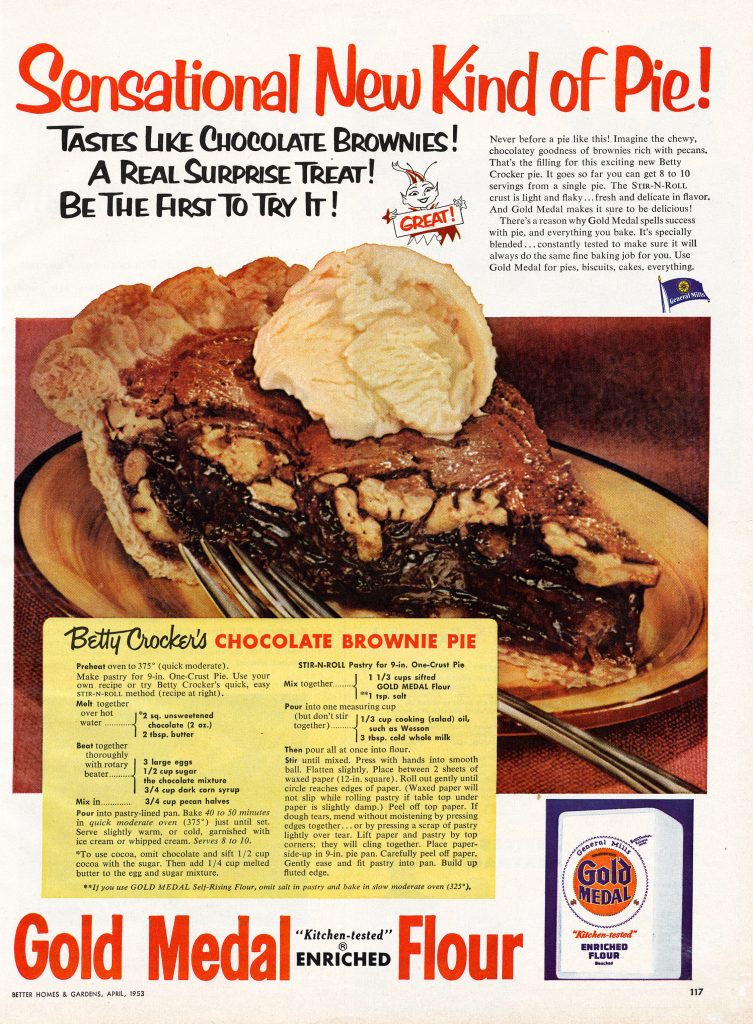 Sensational New Kind of Pie!
Tastes Like Chocolate Brownies!
A real surprise treat!
Be the first to try it!
Never before a pie like this! Imagine the chewy, chocolatey goodness of brownies rich with pecans. That's the filling for this exciting new Betty Crocker pie. It goes so far you can get 8 to 10 servings from a single pie. The Stir-N-Roll crust is light and flaky…fresh and delicate in flavor. And Gold Medal makes it sure to be delicious!
There's a reason why Gold Medal spells success with pie and everything you bake. It's specially blended…constantly tested to make sure it will always do the same fine baking job for you. Use Gold Medal for pies, biscuits, cakes, everything.
Betty Crocker's Chocolate Brownie Pie
Preheat oven to 375 degrees F. (quick moderate).
Make pastry for 9-in. One-Crust Pie. Use your own recipe or try Betty Crocker's quick, easy Stir-N-Roll method (recipe below)
Melt together over hot water: *2 squares unsweetned chocolate (2 oz.)
2 tablespoons butter
Beat together thoroughly with rotary beater: 3 large eggs
1/2 cup sugar
the chocolate mixture
3/4 cup dark corn syrup
Mix in: 3/4 cup pecan halves
Pour into pastry-lined pan. Bake 40-50 minutes in quick moderate oven (375 degrees F.) just until set. Serve slightly warm, or cold, garnished with ice cream or whipped cream. Serves 8-10.
*To use cocoa, omit chocolate and sift 1/2 cup cocoa with the sugar. Then add 1/4 cup melted butter to the egg and sugar mixture.
Stir-N-Roll Pastry for 9-inch One-Crust Pie
Mix together: 1 1/3 cups sifted Gold Medal Flour
** 1 teaspoon salt
Pour into one measuring cup (but do't stir together): 1/3 cup cooking (salad) oil such as Wesson
3 tablespoons cold whole milk
Then oour all at once into flour.
Stir until mixed. Press with hands into smooth ball. Flatten slightly. Place between 2 sheets of waxed paper (12-inch square). Roll out gently until circle reaches edge of paper.
(waxed paper will not slip while rolling pastry if table top under paper is slightly damp.)
Peel off top paper. If dough tears, mend without moistening by pressing edges together…or by pressing a scrap of pastry lightly over tear. Lift paper and pastry by top corners; they will cling together.
Place paper-side-up in 9-inch pie pan. Carefully peel off paper.Gently ease and fit pastry into pan. Build up fluted edge.
** If you use Gold Medal Self-Rising FLour, omit salt in pastry and bake in slow moderate oven (325 degrees F.).
Here are more Betty Crocker Desserts