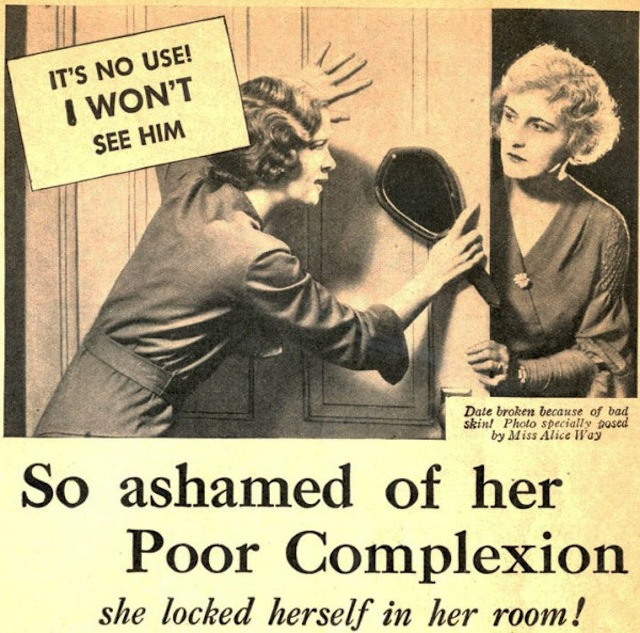 Winter time usually brings a challenge to every complexion, but today you can actually achieve a lovely, sparkling winter skin that has smoothness and radiance you never thought possible before. Here are some beauty suggestions to help you maintain the soft, dewy bloom of perfect complexion.
Complexion Loveliness:
To give your complexion a peaches-and-cream loveliness, smooth a protective film of tropical moist oil over your face and neck to ease away roughness and tiny lines, and to beautify and guard your skin against the drying effects of winter weather. Oil of Olay is recommended because of its special isotonic properties that help nature to maintain the natural oil and moisture balance to the skin. This unique beauty fluid is also ideal for use as a beautifying base beneath make-up, insuring that your complexion will look matte and flawless.
Summer Complexion in Winter:
To clear away the full, winter-dry look and to enliven the complexion, try this simple beauty hint. Wring out a face-cloth in warm water, press it gently on and off your face until it begins to cool. This will bring fresh blood cells to the surface and stimulate the circulation to give your skin a healthy glow. Now to complete the good of this warm complexion-beautifying stimulant, smooth on your oil of Olay to easy away all traces of wrinkle-dryness, and to hold the way of healthful beauty in your complexion.
Pretty Elbows:
Lovely smooth elbows are truly a feminine asset and to keep them youthfully soft use this simple beauty pack. Combine a teaspoon each of granulated sugar, lemon Jelvyn freshener and oil of Olay, and rub the mixture well into the elbows until the skin becomes pink and clean. Remove the pack with warm water, dry thoroughly and then smooth in a generous film of Olay oil to promote a silky surface.
Cream for Smoothness:
Cherish the youthful smoothness of your complexion by massaging the skin at bedtime with rich vitalizing night cream. Apply Olay cream to the cheeks, forehead and throat, sweep it into the skin with light upward moulding strokes and pat a little more round your eyes with feathery, fingertip movements. The isotonic qualities of this vitalizing cream will help to smooth away the early development of skin dryness and tiny lines, while beautifying the soft supple qualities of your complexion.
More Dry Skin Remedies
Dry skin is common during winter. Not only is it unsightly, but it can be itchy and painful, too. I recommend you see a doctor if your dry skin is more than a minor annoyance. A professional can give you the best medical advice for your skin type. You can mention the following dry skin remedies and suggestions and get feedback, too.
Water:
Drink plenty of water and soak in water, too. Avoid long, hot showers (use warm water) or strong-scented and drying soaps. Use bar soaps that are considered beauty bars that contain Lanolin, cocoa butter or coconut oil. When soaking in the tub, add a cup or two of Aveeno (or grind your own oatmeal to use) or add some powdered milk. Afterward, apply baby oil to your skin to lock in moisture. And speaking of water, run a humidifier to add moisture to the air and your skin, too.
Baking Soda Bath:
Soaking in a bath of baking soda for 30-60 minutes can help. Add one cup baking soda to a tub of warm water. After the bath, dry your skin well.
Baby wipes:
Look for wipes that contain Aloe Vera and Vitamin E. They can be a quick way to clean your face before you head out or when you first get back home. Use the wipes to remove makeup, too.
Olive oil:
Add essential oil for scent if desired. Apply to skin. A little goes a long way, so don't apply a lot. Other oils that work well are Jojoba, avocado, coconut, primrose, vitamin E, almond and emu.
Gloves:
If you do dishes, wear gloves to prevent dry or cracked hands. Use a moisturizer that contains humectants such as glycerin.
Steam treatments:
For an occasional indulgence, boil some water in a pan with herbs such as lavender, mint, citrus slices, rosemary or sage (4:1 ratio), or add essential oils and give yourself a steam facial. Remove the boiled water from the stove. Cover with a lid for a few minutes to allow herbs to steep and cool down a bit. Move the pan onto a table, remove the lid and place your face (close your eyes) about 10 inches over the pan. Place a towel over your head to keep the steam contained. Relax like this for a few minutes. Afterward, apply cool water and a moisturizer to face and lip balm to lips (and avoid licking them).
Exfoliate:
Scrub your skin to slough off dead skin. Apply a facial mask to cleanse, tone and soften your skin. Soak your feet in a footbath with Epsom salts or a cup of apple cider vinegar, and use a pedicure paddle and then moisturize. Exfoliate hands with a salt scrub or use a home paraffin spa to soften them. Then add moisturizer.
Salt Scrub:
1/2 cup table salt
1/2 cup sea salt
1/4 cup coffee grounds
1 cup of almond, olive or baby oil
several drops of essential oil for scent
Mix ingredients together, and adjust to the grit texture you prefer. Apply with your hands. Scrub gently and rinse.
Great products:
Results will vary, so you might need to buy a product that costs a bit more money. Try Lansinoh, Cetaphil, A+D ointment, Eucerine, Aquaphor, Corn Husker's lotion, Zim's Crack Creme and AmLactin Lotion. And don't forget the sunscreen!
Homemade lotion mix:
You can use baby lotion, vitamin E cream and Vaseline to make a homemade lotion that's MUCH cheaper than store-bought bath and body products. Use an electric mixer and combine 30 ounces of baby lotion, 16 ounces of collagen and elastin skin cream, 16 ounces of vitamin E skin cream and 3.75 ounces of Vaseline. I really love it. This nice and fluffy lotion feels good and seems to retain the moisturized feeling longer than lots of store-bought lotions. For a smaller recipe, use 15 ounces of baby lotion, 2 ounces of Vaseline and 8 ounces of vitamin E.
The following beauty recipes are quick and easy to make, but please note that they don't contain preservatives, so don't store them long term.
Feet/hands moisturizer:
Soak feet in a small tub of warm water with 1 cup of apple-cider vinegar. Remove feet and apply petroleum jelly. Cover feet with socks.
To make bath bombs or bath fizzies, as some people call them, visit Scent of Water at scentofwater.wordpress.com and click "Tutorials."
Exfoliant II:
Make a paste with equal parts cornmeal and water and apply it to your face. Use a circular motion to scrub and rinse off. For added citrus scent and as a natural astringent, squeeze the juice from half an orange into your paste mixture.
Toner:
Combine equal parts water and witch hazel. Apply with a cotton ball.
Bath salts:
2 cups Epsom salts
1 cup sea salt
colorant, herbal, mineral (1/8 teaspoon) or FD&C liquid dyes (a drop at a time), optional
18 drops of lavender essential oil (or cosmetic-grade fragrance oils)
In a large bowl, mix salts and add the other ingredients slowly. Store in a glass mason jar. To use, add 1/2 cup mixture to bathwater.
Strawberries-and-cream bath bags:
1/2 cup oatmeal (regular or quick)
1/2 cup powdered milk
4 tablespoons ground almonds
6 drops strawberry essential oil
Combine dry ingredients in bowl, stirring to mix well. Add essential oil and blend. Divide mixture among three muslin or organza bags and tie them at the top. Hang one from the bathtub faucet as the water is running into the tub or place directly into bath water. Store the other two in an airtight jar or a baggie. — Diana, New York
Skin mask:
2 tablespoons aloe vera gel
1 tablespoon pure honey
4 teaspoons brewed and cooled chamomile tea
2 drops lavender essential oil
Mix all ingredients together and apply to face. Leave on for 15 minutes. Rinse.
Salt scrub and massage oil:
To make scrubbing salts, use kosher salt (boxes of it are on sale after most holidays) or sea salt, olive oil and essential oils, which cost $6 per bottle at the health food store, but go a really long way! Fill small canning jars with the salt and cover it with olive oil (2:1), then add a few drops of essential oils. You can find pretty colored bottles with corks at the dollar store and fill them with a light olive oil and some essential oil drops to make homemade massage oil, too.
Bubble Bath:
5 drops essential oil
1 ounce liquid glycerin
1 ounce coconut oil
1 (4-ounce) bar Castile soap, grated
4 cups distilled water
Mix ingredients together. Store in spill-proof container. Add to bathwater.
Lip balm:
It's very easy to make. Visit greenbeesbees.blogspot.com/2008/09/homemade-lip-balm.html for a lip balm recipe, but a basic formula is:
1/4 cup vegetable or nut oil
1/4 ounce beeswax
1 teaspoon honey or glycerin (humectant)
1/2 to 1 teaspoon natural flavoring oil, such as peppermint or lemon
Heat the vegetable or nut oil and beeswax in a double boiler until the beeswax is melted. Remove from heat and whip with an electric beater until creamy. Add the honey or glycerin and flavoring oil; whip some more. Store in small glass jars. Try different oils on your lips to choose the best one for your skin.
Bonus Hair Recipes
Simple Shampoo
1 ounce olive oil
1 egg
1 tablespoon lemon juice
1 teaspoon apple-cider vinegar
Combine ingredients in a blender. Apply to wet hair. Massage into scalp. Rinse.
Hair conditioner:
Use mashed avocado to condition hair. Apply to wet hair. Rinse. Optional: Add 1/4 cup mayonnaise to mashed avocado for dry hair.