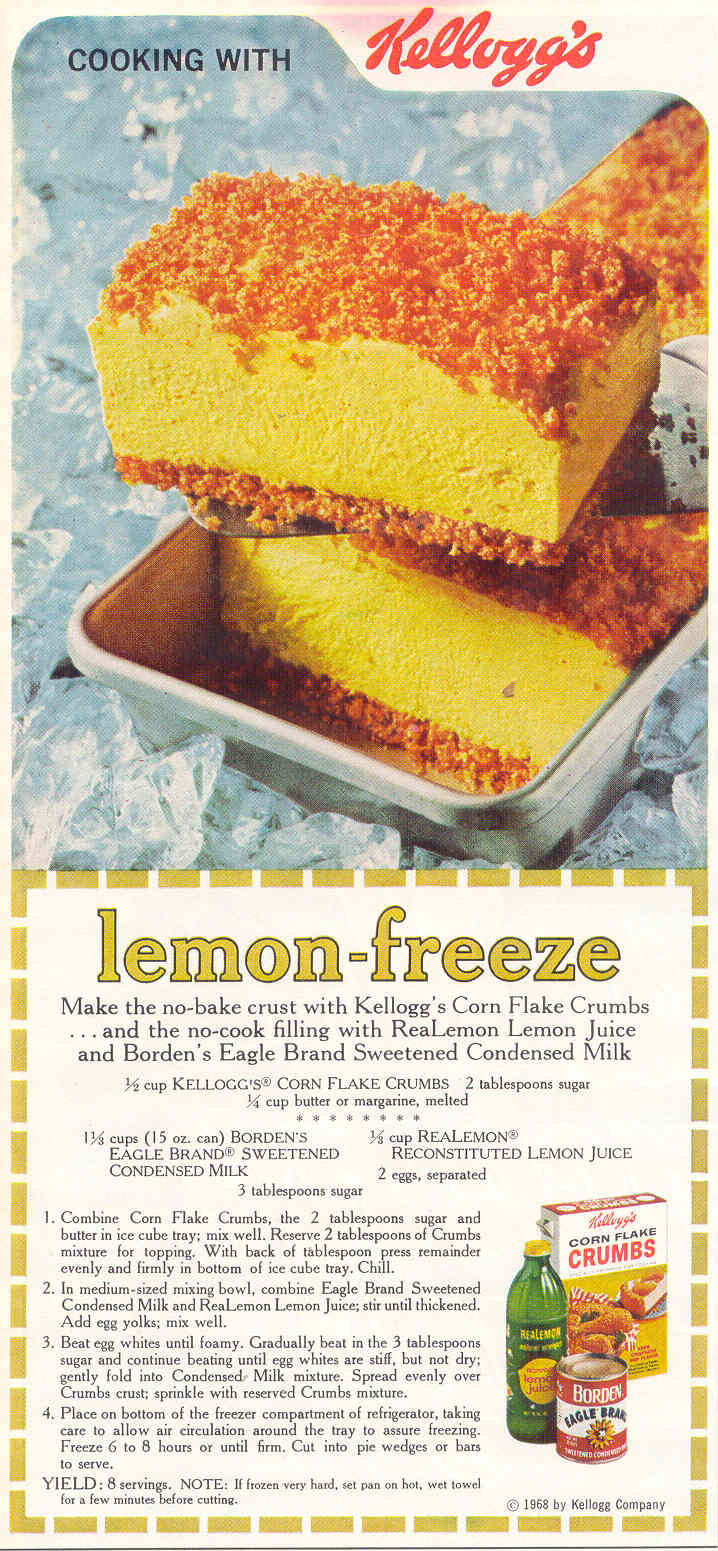 Cooking with Kellogg's
Lemon-Freeze
Make the no-bake crust with Kellogg's Corn Flake Crumbs…and the no-cook filling with RealLemon Lemon Juice and Borden's Eagle Brand Sweetened Condensed Milk
1/2 cup Kellogg's Corn Flake Crumbs
2 tablspoons sugar
1/4 cup butter or margarine, melted
1 1/3 (15 oz. can) Borden's Eagle Brand Sweetened Condensed Milk
1/3 cup RealLemon Reconstituted Lemon Juice
2 eggs, separated
3 tablespoons sugar
1. Combine Corn Flake Crumbs, the 2 tablespoons sugar and butter in ice cube tray; mix well. Reserve 2 tablespoons Crumbs mixture for topping. With back of tablespoon
press remainder evenly and formly in bottom of ice cube tray. Chill.
2. In medium-sized mixing bowl, combine Eagle Brand Sweetned Condensed Milk and RealLemon Lemon Juice; stir until thickened. Add egg yolks; mix well.
3. Beat egg whites until foamy. Gradually beat in the 3 tablespoons sugar and continue beating until egg whites are stiff, but not dry; gently fold into Condensed Milk mixture. Spread evenly over Crumbs crust; sprinkle with reserved Crumbs mixture.
4. Place on bottom of the freezer compartment of refrigerator, taking care to allow air circulation around the tray to assure freezing.
Freeze 6-8 hours or until form. Cut into pie wedges or bars to serve.
Yield: 8 servings. Note: If frozen very hard, set pan on hot, wet towel for a few minutes before cutting.
Here are more Kellogg's Recipes.