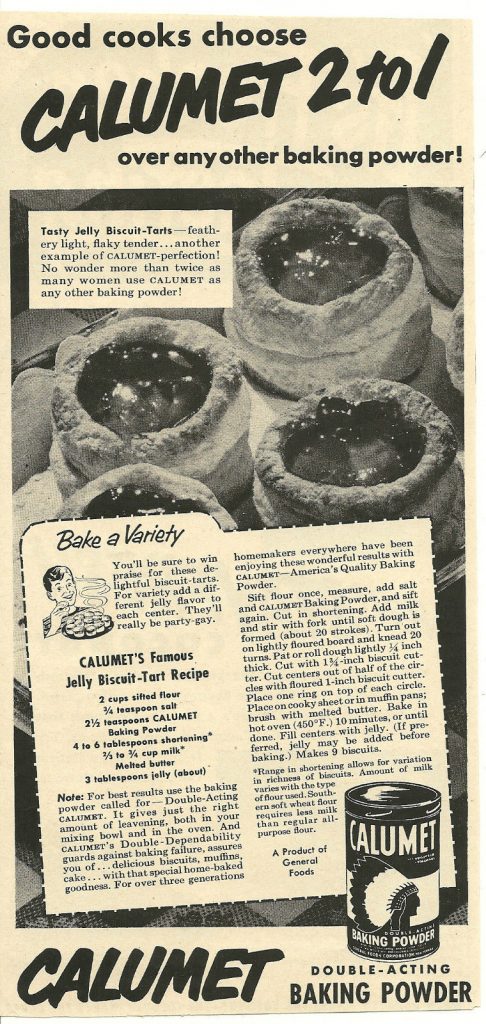 Tasty Jelly Biscuit Tarts-feathery light, flaky tender…another example of Calumet-perfection!
No wonder more than twice as many women use Calumet as any other baking powder!
Bake a variety
You'll be sure to win praise for these delightful biscuit tarts.
For variety add a different jelly flavor to each center. They'll be party gay.
Calumet's Famous Jelly Biscuit Tart Recipe
2 cups sifted flour
3/4 teaspoon salt
2 1/2 teaspoons Calumet Baking Powder
4-6 tablespoons shortening*
2/3-3/4 cup milk*
Melted Butter
3 tablespoons jelly (about)
Note: For best results use the baking powder called for-Double-Acting Calument. It gives just the right amount of leavening, both in your mixing bowl and in the oven. And Calumet's Double-Dependability guards against baking failure, assures you of…delicious biscuits, muffins, cake…with that special home-baked goodness. For over three generations homemakers everywhere have been enjoying these wonderful results with Calumet-America's Quality Baking Powder.
Sift flour once, measure add salt and Calumet Baking Powder and sift again. Cut in shortening. Add milk and stir with fork until soft dough is formed (about 20 strokes). Turn out on lightly floured board and knead 20 turns. Pat or roll dough lightly 1/4 inch thick. Cut with 1 3/4-inch biscuit cutter. Cut centers out of half the circles with floured 1-inch biscuit cutter.
Place one ring on top of each circle.
Place on cookie sheet or in muffin pans; brush with melted butter. Bake in hot oven (450 degrees F.) 10 minutes or until done. Fill centers with jelly. (If preferred, jelly may be added before baking.) Makes 9 biscuits.
*Range in shortening allows for variation in richness or biscuits. Amount of milk varies with the type of flour used. Southern soft wheat flour requires less milk than regular all-purpose flour.