Irish Corn Recipe. Ad has a cute cartoon.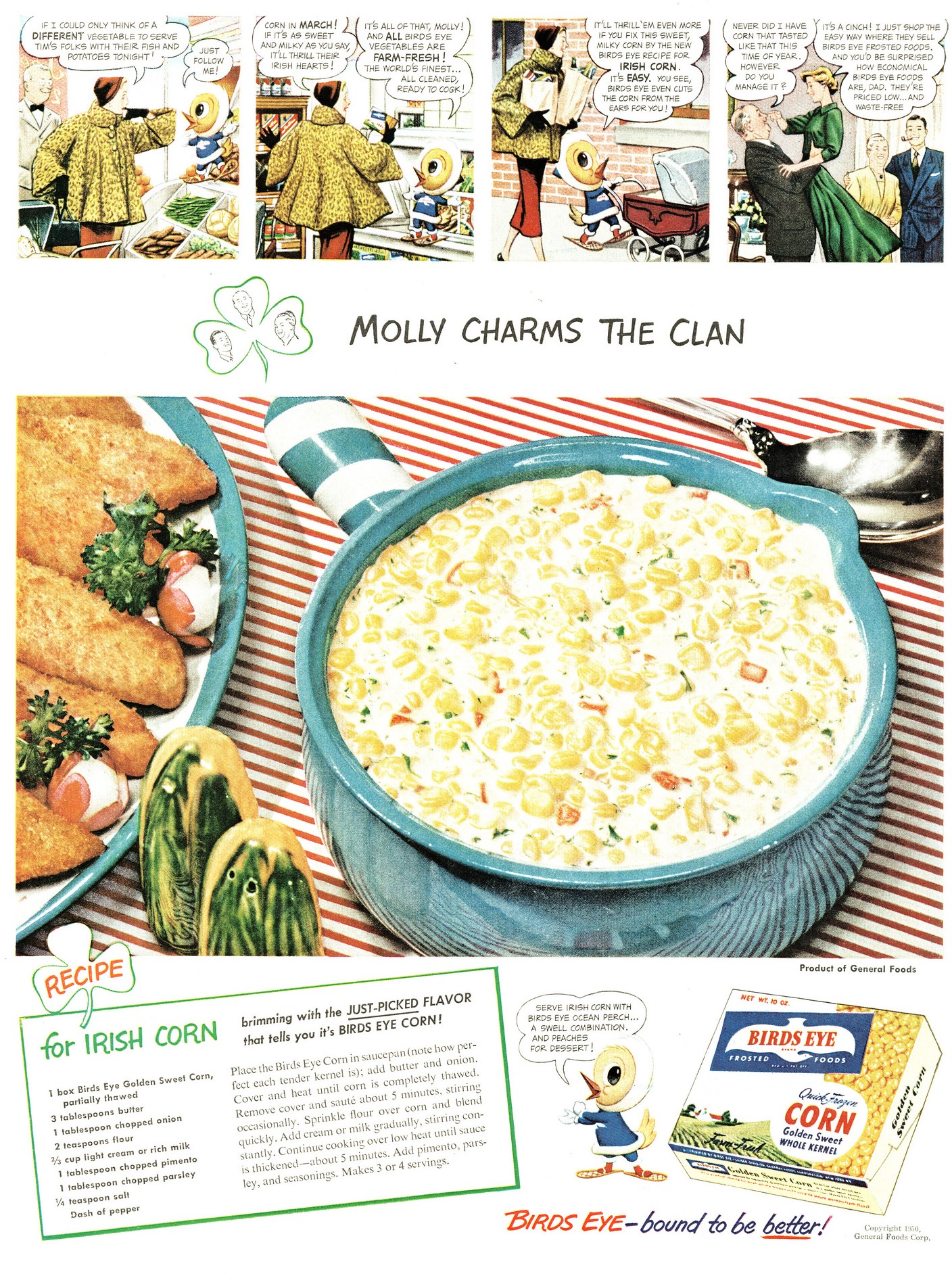 Irish Corn Recipe
brimming with the just-picked flavor that tells you it's Bird's Eye Corn.
1 box Bird's Eye Golden Sweet Corn, partially thawed
3 tablespoons butter
1 tablespoon chopped onion
2 teaspoons flour
2/3 cup light cream or rich milk
1 tablespoon chopped pimento
1 tablespoon chopped parsley
1/4 teaspoon salt
Dash of pepper
Place the Bird's Eye Corn in saucepan (note how perfect each tender kernel is); add butter and onion. Cover and heat until corn is completely thawed. Remove cover and saute about 5 minutes, stirring occasionally. Sprinkle flour over corn and blend quickly. Add cream or milk gradually, stirring constantly. Continue cooking over low heat until sauce is thickened-about 5 minutes. Add pimento, parsley, and seasonings. Makes 3 or 4 servings.
Here are more Bird's Eye Recipes.
This year, serve your family more than last-minute green vegetables or shamrock shakes. These recipes are deliciously festive for St Patty's Day, but, as luck would have it, they can be served any time of the year.
Corned Beef and Cabbage
4 pounds corned-beef brisket with spice packet
water
1 can of beer, optional
1/4 cup brown sugar
1 medium onion, chopped
2 bay leaves
6 potatoes, cut in half
5 carrots, peeled and chopped
4 cloves garlic
1 medium head cabbage, cut into small wedges
1 medium onion, chopped
Place corned beef in large pot, and cover with water and one can of beer. Add the spice packet. Cover pot, and bring to a boil. Reduce heat. Add brown sugar, onion and bay leaves. Simmer 3-1/2 hours. Skim top if needed. Add potatoes, carrots, garlic and cabbage, and cook until the vegetables are tender. Remove meat, and slice across the grain. Or combine all ingredients in a slow cooker on low for 6 hours.
Colcannon
8 slices bacon
1/2 small head cabbage, chopped, or 16-ounce bag of coleslaw mix
1 large onion, chopped
6 potatoes, boiled
1/2 cup milk
1/4 cup butter
salt and pepper, to taste
In a skillet, fry bacon. Drain, reserving drippings, crumble and set aside. In the reserved drippings, saute the cabbage and onion until soft. Mash potatoes with milk and butter, and season with salt and pepper. Fold in the bacon, cabbage and onions, and transfer the mixture to a large serving bowl. Optional: Brown under broiler.
Irish Soda Bread
3/4 cup raisins
3-1/2 cups all-purpose flour
1/2 cup granulated sugar
1/2 teaspoon baking soda
2 teaspoons baking powder
1 teaspoon salt
2 eggs
1 pint sour cream
1 tablespoon caraway seeds
Preheat oven to 350 F. Soak raisins in warm water for 20 minutes to plump them. In a large bowl, combine dry ingredients. In a small bowl, beat eggs and stir in sour cream. Add the egg mixture to the dry ingredients, and stir with a wooden spoon or use hands. Stir in the raisins and caraway seeds. Place dough in a greased 9-inch springform pan. Dust the top with flour to prevent hands from sticking, and pat the dough evenly in the pan. With a knife, make a shallow crisscross slash on the top. Bake for 50 minutes.