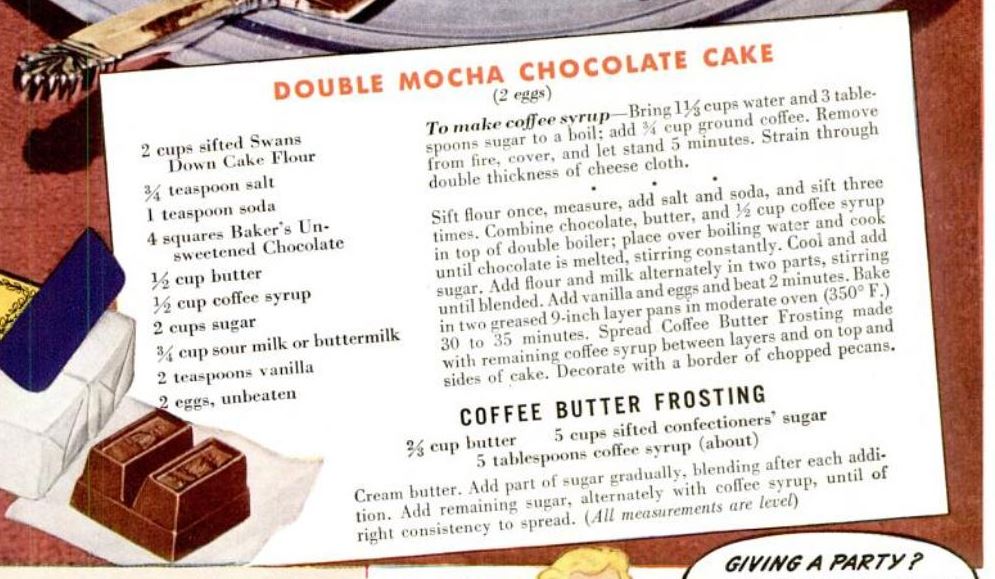 Double Mocha Chocolate Cake
2 cups sifted Swans Down Cake Flour
3/4 teaspoon salt
1 teaspoon soda
4 squares Baker's Unsweetened Chocolate
1/2 cup butter
1/2 cup coffee syrup
2 cups sugar
3/4 cup sour milk or buttermilk
2 teaspoons vanilla
2 eggs, unbeaten
To make coffee syrup:
Bring 1 1/3 cups water and 3 tablespoons sugar to a boil: add 3/4 cup ground coffee. Remove from fire, cover and let stand 5 minutes. Strain through souble thickness of cheese cloth.
Sift flour once, measure, add salt and soda, and sift three times. Combine chocolate, butter, and 1/2 cup coffee syrup in top of couble boiler; place over boiling water and cook until chocolate i smelted, stirring constantly. Cool and add sugar. Add flour and milk alternately in two parts, stirring until blended. Add vanilla and eggs and beat 2 minutes. Bake in two greased 9-inch layer pans in moderate oven (350 degrees F.) 30-35 minutes. Spread coffee butter frosting made with remaining coffee syrup between layers and on top and sides of cake. Decorate with a border of chopped pecans.
Coffee Butter Frosting
2/3 cup butter
5 cups confectioners' sugar
5 tablespoons coffee syrup (about)
Cream butter. Add part of sugar gradually, blending after each addition. Add remaining sugar, alternately with coffee syrup, until of right consistency to spread. All measurements are level.