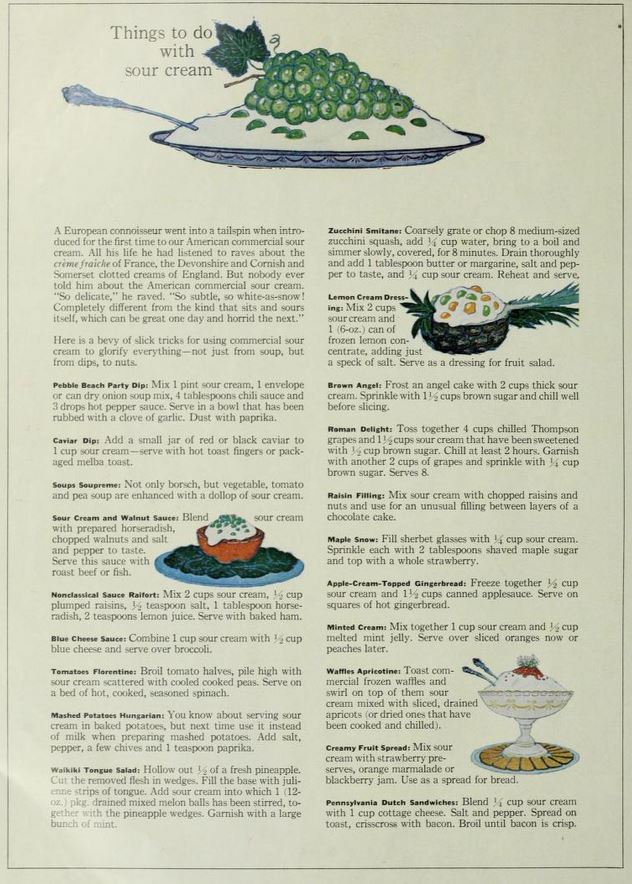 Things to Do with Sour Cream
A European connoisseur went into a tailspin when introduced for the first time to our American commercial sour cream. All this life he had lsitened to raves about the creme fraiche of France, the Devonshire and Cornish and Somerset clotted creams of England. But nobody ever told him about the American commercial sour cream.
"So delicate," he raved. "So subtle, so white-as-snow! Completely different from the kind that sits and sours itself, which can be great one day and horrid the next."
Here is a bevy of slick tricks for using commercial sour cream to glorify everything-not just from soup, but from dips to nuts.
Pebble Beach Party Dip:
Mix 1 pint sour cream, 1 envelope or can dry onion soup mix, 4 tablespoons chili sauce and 3 drops hot pepper sauce. Serve in a bowl that has been rubbed with a clove of garlic. Dust with Paprika.
Caviar Dip:
Add a small jar of red or black caviar to 1 cup sour cream-serve with hot toast fingers or packaged melba toast.
Soups Soupreme:
Not only borsch, but vegetable, tomato and pea soup are enhanced with a dollop of sour cream.
Sour Cream Walnut Sauce:
Blend sour cream with prepared horseradish, chopped walnuts and salt and pepper to taste. Serve this sauce with roast beef or fish.
Nonclassical Sauce Raifort:
Mix 2 cups sour cream, 1/2 cup plumped raisins, 1/2 teaspoon salt, 1 tablespoon horseradish, 2 teaspoons lemon juice. Serve with baked ham.
Blue Cheese Sauce:
Combine 1 cup sour cream with 1/2 cup blue cheese and serve over broccoli.
Tomatoes Florentine:
Broil tomato halves, pule high with sour cream scattered with cooled cooked peas. Serve on a bed of hot, cooked, seasoned spinach.
Mashed potatoes Hungarian:
You know about serving sour cream in baked potatoes, but next time use it instead of milk when prepating mashed potatoes. Add salt, pepper, a few chives and 1 teaspoon paprika.
Zucchini Smitane:
Coarsely grate or chop 8 medium-sized zucchini squash, add 1/4 cup water, bring to a boil and simmer slowly, covered, for 8 minutes. Drain thoroughly and add 1 tablespoon butter or margarine, salt and pepper to taste, and 1/4 cup sour cream. Reheat and serve.
Lemon Cream Dressing:
Mix 2 cups sour cream and 1 (6-oz.) can of frozen lemon concentrate, adding just a speck of salt. Serve as a dressing for fruit salad.
Brown Angel:
Frost an angel cake with 2 cups thick sour cream. Sprinkle with 1 1/2 cups brown sugar and chill well before slicing.
Roman Delight:
Toss together 4 cups chilled Thompson grapes and 1 1/2 cups sour cream that have been sweetened with 1/2 cup brown sugar. Chill at least 2 hours. Garnish with another 2 cups grapes and sprinkle with 1/4 cup brown sugar. Serves 8.
Raisin Filling:
Mix sour cream with chopped raisins and nuts and use for an unusual filling between layers of a chocolate cake.
Maple Snow:
Fill sherbet glasses with 1/4 cup sour cream. Sprinkle each with 2 tablespoons shaved maple sugar and top with a whole strawberry.
Apple Cream Topped Gingerbread:
Freeze together 1/2 cup sour cream and 1 1/2 cups canned applesaice. Serve on squares of hot gingerbread.
Minted Cream:
Mix together 1 cup sour cream and 1/2 cup melted mint jelly. Serve over sliced oranges now or peaches later.
Waffles Apricotine:
Toast commercial frozen waffles and swirl on top of them sour cream mixed with sliced, drained apricots (or dried ones that have been cooked and chilled).
Creamy Fruit Spread:
Mix sour cream with strawberry preserves, orange marmalade or blackberry jam. Use as a spread for bread.
Pennsylvania Dutch Sandwiches:
Blend 1/4 cup sour cream with 1 cup cottage cheese. Salt and Pepper. Spread on toast, crisscross with bacon. Broil until bacon is crisp.
Sour cream is one of those products that tends to expire before you use it up, so I'm sharing a few more easy recipes. Keep them handy, and choose one depending on how much sour cream you have left.
Sprite Biscuits
1 cups regular Sprite
8 ounces sour cream
4 cups Bisquick
Preheat oven to 400 F. Mix Sprite and sour cream. Add biscuit mix gradually. Roll dough on floured surface, and cut with a biscuit cutter. Bake 20 minutes.
Party Potatoes
1 large package hash browns
1 pint sour cream
1/2 stick melted butter
2 cans cream-of-chicken soup
2 tablespoons grated onion
salt and pepper, to taste
Mix all ingredients, and bake in preheated 350 F oven in 13-by-9-inch pan until bubbly through, about 30 to 40 minutes. Easily made in slow cooker: on high for 30 minutes, then low for 2 to 3 hours. Use 3/4 stick butter for slow cooker.
Jiffy Corn Casserole
1 (15-ounce) can whole-kernel corn, undrained
1 (15-ounce) can cream-style corn
1 (8-ounce) box Jiffy cornbread mix
1 cup sour cream
1/2 cup butter
Preheat oven to 350 F. Mix ingredients together, and pour into baking dish. Bake for 1 hour.
Blueberry-Sour-Cream Loaf
1-1/2 cups all-purpose flour
1/2 teaspoon salt
1 teaspoon baking powder
1/2 teaspoon baking soda
6 tablespoons softened margarine
1 cup sugar
2 eggs
1 teaspoon vanilla extract
1/2 cup sour cream
1-1/2 cups frozen blueberries
Preheat oven to 375 F. Grease and flour loaf pan. In one bowl, mix the flour, salt, baking powder and baking soda. In the second bowl, mix together margarine, sugar, eggs, vanilla and sour cream. Mix the contents of the bowls together, and fold in the frozen blueberries. Pour into the prepared loaf pan, and bake at 375 F for about 45 minutes to an hour. This bread is easily doubled. Double all ingredients except for the eggs. You will need only three eggs.
Mocha-Brownie Cookies
2-1/2 cups flour
1/3 cup unsweetened cocoa powder
1 teaspoon baking soda
1 teaspoon baking powder
1 teaspoon salt
1 cup granulated sugar
3/4 cup firmly packed light brown sugar
1/2 cup butter, softened
1/4 cup sour cream
1 tablespoon instant coffee, dissolved in 2 tablespoons cooled brewed coffee
2 large eggs
1-1/2 cup semisweet chocolate chips
Preheat oven to 325 F. Combine flour, cocoa, baking soda, baking powder and salt in a medium bowl. Set aside. Beat sugars, butter, sour cream and coffee mixture in a large bowl. Add eggs, one at a time, beating well after each addition or until batter is light and fluffy. Gradually add flour mixture to butter mixture. Stir in chocolate chips. Drop dough by rounded tablespoonful on ungreased cookie sheet. Bake 9 to 11 minutes, or until slight imprint remains when pressed with finger. Cool 3 minutes on sheet, then transfer to rack to cool completely.