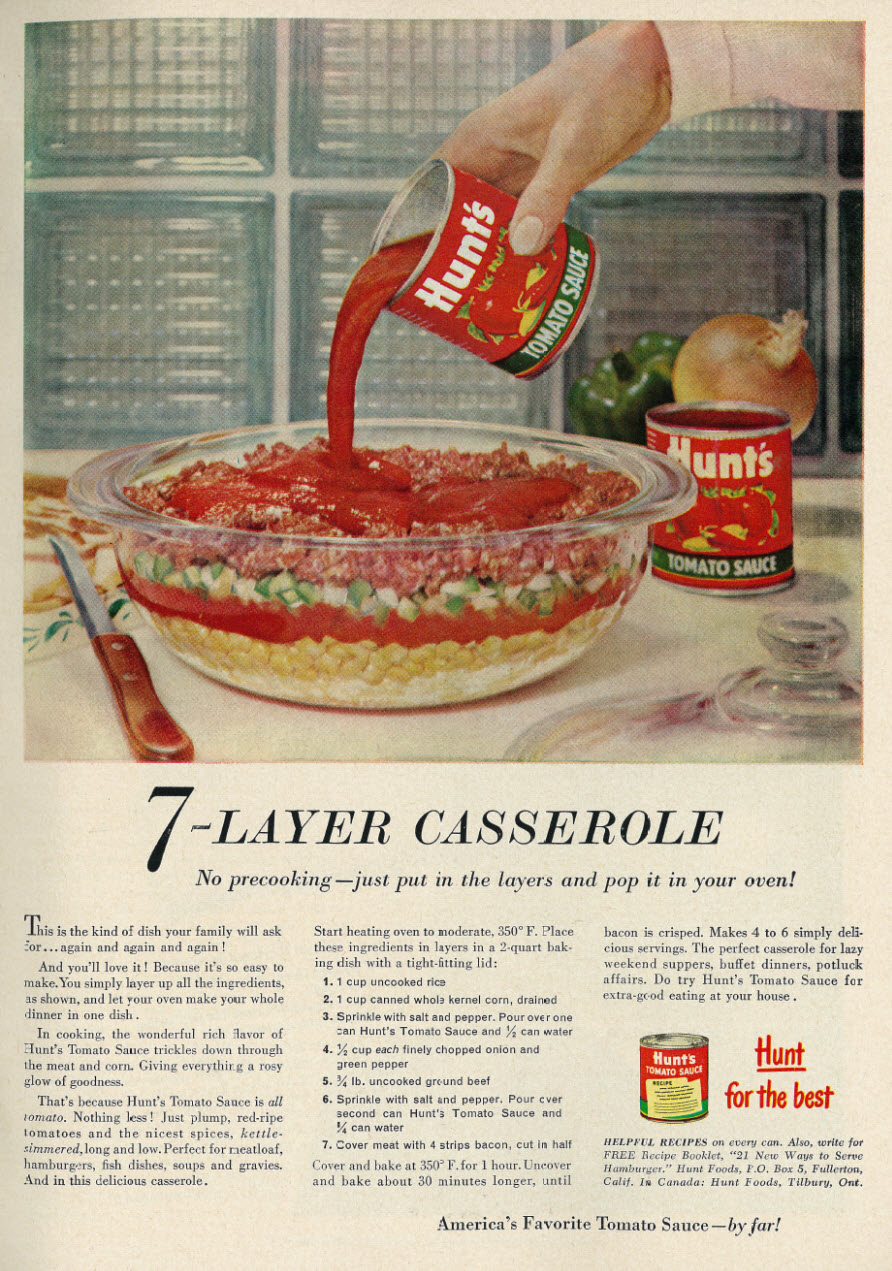 7-Layer Casserole Recipe
No precooking-just put in the layers and pop it in your oven!
This is the kind of dish your family will ask for…again and again and again!
And you'll love it! Because it's so easy to make. You simply layer up all the ingredients, as shown, and let your oven make your whole dinner in one dish.
In cooking, the wonderful rich flavor of Hunt's Tomato Sauce trickles down through the meat and corn. Giving everything a rosy glow of goodness.
That's because Hunt's Tomato Sauce is all tomato. Nothing less! Just plump, red-ripe tomatoes and the nicest spices, kettle-simmeed, long and low. Perfect for meatloaf, hamburgers, fish dishes, soups and gravies. And in this delicious casserole.
Start heating oven to moderate, 350 degrees F. Place these ingredients in layers in 2-quart baking dish with a tight-fitting lid:
1. 1 cup uncooked rice
2. 1 cup canned whole kernel corn, drained
3. Sprinkle with salt and pepper. Pour over one can of Hunt's Tomato Sauce and 1/2 can water.
4. 1/2 cup each finely chopped onion and green pepper.
5. 3/4 lb. uncooked ground beef
6. Sprinkle with salt and pepper. Pour over second can Hunt's Tomato Sauce and 1/4 can water.
7. Cover meat with 4 strips bacon, cut in half
Cover and bake at 350 degrees F for 1 hour. Uncover and bake about 30 minutes longer, until bacon is crisped. Makes 4-6 simply delicious servings. The perfect casserole for lazy weekend suppers, buffet dinners, potluck affairs. Do try Hunt's Tomato Sauce for extra-good eating at your house.
Here are more Hunt's Recipes