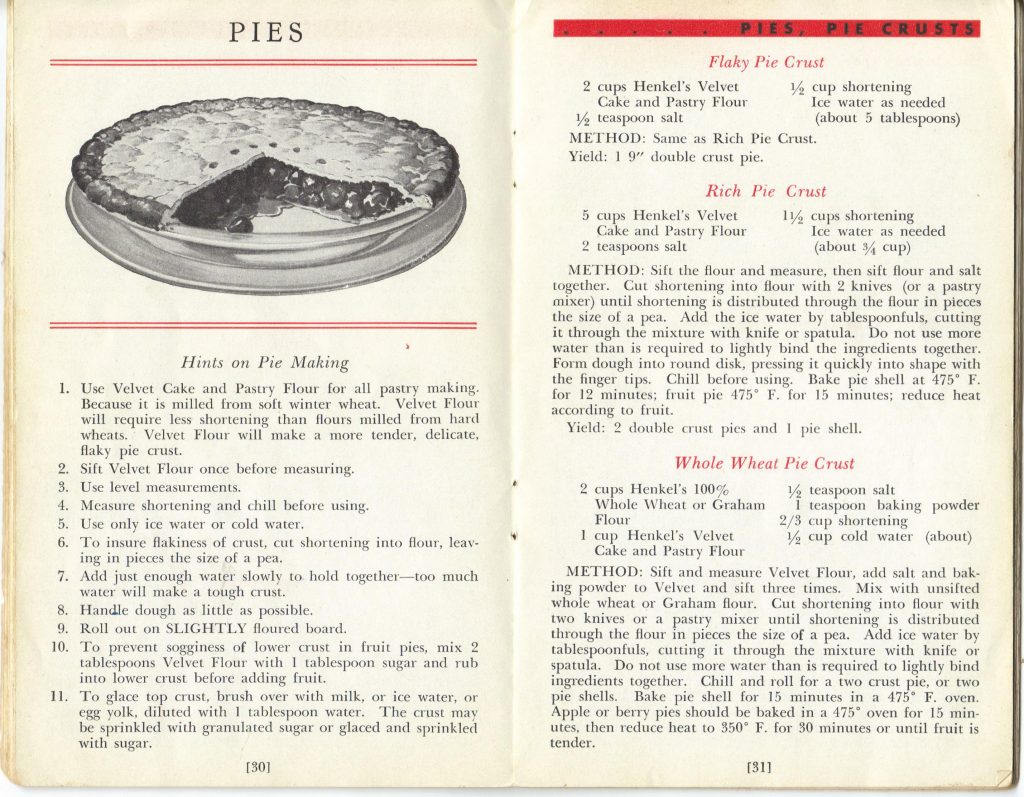 Pie Making Tips
Use Velvet Cake and Pastry Flour for all pastry making. Because it is milled from soft winter wheat. Velvet flour will require less shortening than flour milled from hard wheats. Velvet flour will make a more tender, delicate, flaky pie crust.
Sift Velvet flour once before measuring.
Use level measurements.
Measure shortening and chill before using.
Use only ice water or cold water.
To insure flakiness of crust, cut shortening into flour, leaving in pieces the size of a pea.
Add just enough water slowly to hold together-too much water will make a touch crust.
Handle dough as little as possible.
Roll out on slightly floured board.
To prevent sogginess of lower crust  in fruit pies, mix 2 tablespoons Velvet FLour with 1 tablespoon sugar and run into lower crust before adding fruit.
To glace top crust, brush over with milk, or ice water, or egg yolk, diluted with 1 tablespoon water. The crust may be sprinkled with granulated sugar or glaced and sprinkled with sugar.
Flaky Pie Crust
2 cups Henkel's Velvet Cake and Pastry Flour
1/2 teaspoon salt
1/2 cup shortening
Ice water as needed (about 5 tablespoons)
Method: Same as Rich Pie Crust
Yield: 1 9″ double crust pie
Rich Pie Crust
5 cups Henkel's Velvet Cake and Pastry Flour
2 teaspoons salt
1 1/2 cups shortening
Ice water as needed (about 3/4 cup)
Method: Sift the flour and measure, then sift flour and salt together. Cut shortening into flour with 3 knives (or a pastry mixer) until shortening is distributed through the flour in pieces the size of a pea. Add the ice water by the tablespoonfuls, cutting it through the mixture with knife or spatula. DO not use more water than is required to lightly bind the ingredients together. Form dough into round disk, pressing it quickly into shape with finger tips. Chill before using. Bake pie shell at 475 degrees F. for 12 minutes: fruit pie 475 degrees F. for 15 minutes; reduce heat according to fruit. Yield 2 double crust pies and 1 pie shell
Whole Wheat Pie Crust
2 cups Henkel's 100% Whole Wheat or Graham Flour
1 cup Henkel's Velvet Cake and Pastry FLour
1/2 teaspoon salt
1 teaspoon baking powder
2/3 cup shortening
1/2 cup cold water (about)
Method: Sift and measure Velvet FLour, add salt and baking powder to Velvet and sift three times. Mix with unsifted whole wheat or Graham flour. Cut shortening into flour with two knives or a pastry mixer until shortening is distributed through the flour in pieces the size of a pea. Add ice water by tablespoonsfuls, cutting it through the mixture with knife or spatula. Do not use more water than is required to lightly bund ingredients together. Chill and roll for a two crust pie, or two pie shells. Bake pie shell for 15 minutes in a 475 degree F. oven. Apple or berry pies should be baked in a 475 degree F. oven for 15 minutes, then reduce heat to 350 degrees F. for 30 minutes or until fruit is tender.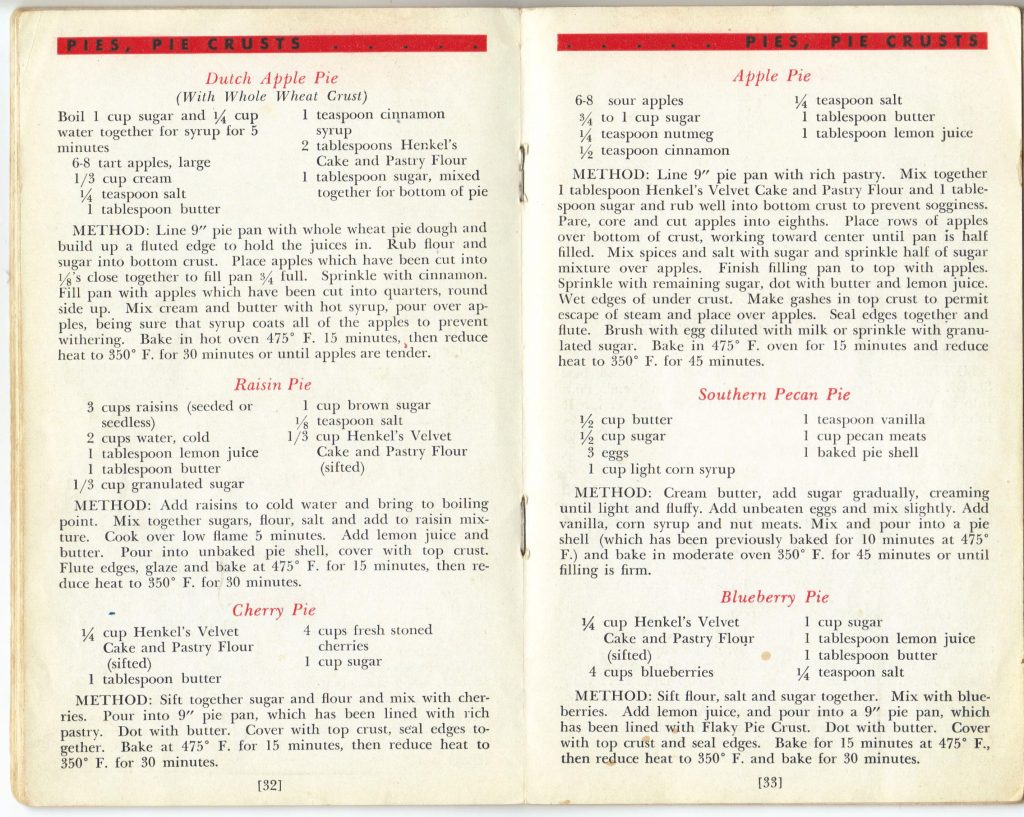 Dutch Apple Pie
(with Whole Wheat Crust)
Boil 1 cup sugar and 1/4 cup water together for syrup for 5 minutes
6-8 tart apples, large
1/3 cup cream
1/4 teaspoon salt
1 tablespoon butter
1 teaspoon cinnamon syrup
2 tablespoons Henkel's Cake and Pastry Flour
1 tablespoon sugar, mixed together for bottom of pie
Method: Line 9″ pie pan with whole wheat pie dough and build up a fluted edge to hold the juices in. Rub flour and sugar into bottom crust. Place apples which have been cut into 1/8s close together to fill pan 3/4 full. Sprinkle with cinnamon. Fill pan with apples which have been cut into quarters, round side up. Mix cream and butter with hot syrup, pour over apples, being sure that syrup coats all of the apples to prevent withering. Bake in hot oven 475 degrees F. for 15 minutes, then reduce heat to 350 degrees F. for 30 minutes or until apples are tender.
Raisin Pie
3 cups raisins (seeded or seedless)
2 cups water, cold
1 tablespoon lemon juice
1 tablespoon butter
1/3 cup granulated sugar
1 cup brown sugar
1/8 teaspoon salt
1/3 cup Henkel's Velvet Cake and Pastry FLour (sifted)
Method: Add raisins to cold water and bring to boiling point. Mix together sugars, flour, salt and add raisin mixture. Cook over low flame for 5 minutes. Add lemon juice and butter. Pour into unbaked pie shell. Cover with top crust.Flute edges, glaze and bake at 475 degrees F. for 15 minutes, then reduce heat to 350 degrees F. for 30 minutes.
Cherry Pie
1/4 cup Henkel's Velvet Cake and Pastry Flour (sifted)
1 tablespoon butter
4 cups fresh stones cherries
1 cup sugar
Method: Sift together sugar and flour and mix with cherries. Pour into 9″ pie pan, which has been lined with rich pastry. Dot with butter. Cover with top crust, seal edges together. Bake at 475 degrees F. for 15 minutes, then reduce heat to 350 degrees F. for 30 minutes.
Apple Pie
6-8 sour apples
3/4 to 1 cup sugar
1/4 teaspoon nutmeg
1/2 teaspoon cinnamon
1/4 teaspoon salt
1 tablespoon butter
1 tablespoon lemon juice
Method: Line 9″ pie pan with rich pastry. Mix together 1 tablespoon Henkel's Velvet Cake and Pastry Flour and 1 tablespoon sugar and rub well into bottom crust to prevent sogginess. Pare, core and cut apples into eighths. Place rows of apples over bottom of crust, working toward center until pan is half filled. Mix spices and salt with sugar and sprinkle half of the sugar mixture over apples. Finish filling pan to top with apples. SPrinkle with remaining sugar, dot with butter and lemon juice. Wet edges of under crust. Make gashes in top crust to permit escape of steam and place over apples. Seal edges together and flute. Brush with egg diluted with milk or sprinkle with granulated sugar. Bake in 475 degree F. oven for 15 minutes and reduce heat to 350 degrees F. for 45 minutes.
Southern Pecan Pie
1/2 cup butter
1/2 cup sugar
3 eggs
1 cup light corn syrup
1 teaspoon vanilla
1 cup pecan meats
1 baked pie shell
Method: Cream butter, add sugar gradually creaming until light and fluffy. Add unbeaten eggs and mix slightly. Add vanilla, corn syrup and nut meats. Mix and pour into a pie shell (which has been previously baked for 10 minutes at 475 degrees F.) and bake in moderate oven 350 degrees F. for 45 minutes or until filling is firm.
Blueberry Pie
1/4 cup Henkel's Velvet Cake and Pastry Flour (sifted)
4 cups blueberries
1 cup sugar
1 tablespoon lemon juice
1 tablespoon butter
1/4 teaspoon salt
Method: Sift flour, salt and sugar together. Mix with blueberries. Add lemon juice, and pour into a 9″ pie pan, which has been lined with Flaky Pie Crust. DOt with butter. Cover with top crust and seal edges. Bake for 15 minutes at 475 dgrees F., then reduce heat to 350 degrees F. and bake for 30 minutes.
Good Things to Eat Cookbook Commercial Milling Company, Makers of Henkel's Extra Fancy Flours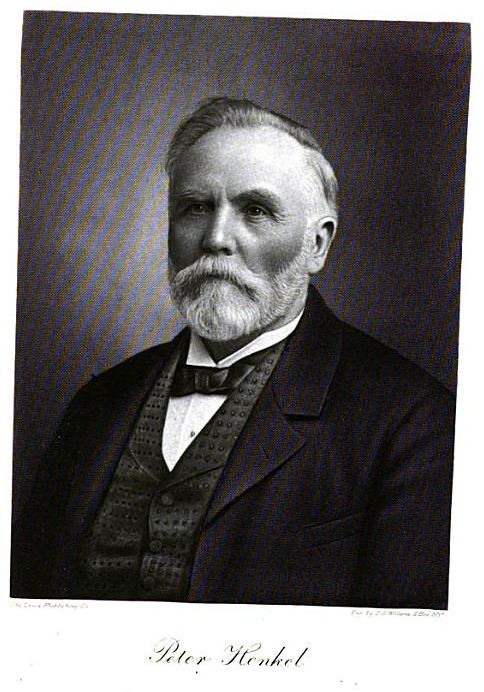 About Peter Henkel (founder Henkel's Extra Fancy Flours, Commercial Milling Company)
Peter Henkel. In studying a clean-cut, sane, distinct character like that of the late Peter Henkel, interpretation follows fact in a straight line of derivation. There is small need for indirection or puzzling. His character was the positive expression of a strong nature, and his strength was as the number of his days. His name looms large in connection with the industrial and civic history of Detroit, where his course was marked by admirable achievement and governed by the highest personal integrity and honor. In Detroit he built up industrial enterprises of broad scope and importance and he was a citizen who was ever ready to lend his aid in the promotion of measures advanced for the general good of the community. He held various offices of public trust. For more than sixty years he was identified with business activities in Detroit and his success, which was large, represented the tangible results of his own well directed energies.
Mr. Henkel was a native of the province of Westphalia, Germany, on the 30th of January, 1824, and he died at his home in Detroit, on the 23d of May, 1904, at the venerable age of eighty years and four months. His father was a wool-dyer and was engaged in this line of enterprise at Beilstein, Germany, to whose schools the subject of this memoir was indebted for his early educational discipline, which was limited in scope. At the age of thirteen years Mr. Henkel entered upon an apprenticeship to the trade followed by his father. He was soon made a representative of the concern as a salesman on the road and later held a clerical position with the same. At the age of twenty years he was conducting a business of his own, and thus was shown the industry, initiative energy and ambition which marked so significantly his later career in Detroit. As he often said, he left Germany because of the despotism he there encountered during his career as a salesman, and it may well be understood that his loyalty to American institutions became of the most insistent order.
In 1842, when eighteen years of age and accompanied by his parents and his younger brother, Mr. Henkel embarked on a sailing vessel and set forth to seek his fortune in America. The family landed in New York city and thence came to Detroit, where the venerable parents passed the remainder of their lives — subjects of his deepest filial solicitude. Concerning the career of Mr. Henkel the Detroit Free Press gave a most appreciative estimate at the time of his death, and, with certain paraphrase, the statements thus given are found worthy of perpetuation in this sketch.
Mr. Henkers business life in America began by his engaging in the retail grocery trade in Detroit, in partnership with Anthony Pulte. They occupied two stores — one opposite the city hall and the other on Woodbridge street. Mr. Henkel started in with a cash capital of one hundred and ten dollars, and the competition was keen. Strict attention to business won, however, and within the next twenty years he became successively wholesale grocer, pork packer and miller. He was the first in Detroit to do pork packing, though many others tried it later. His rise was rapid and during the period between the '60s ,and '80s, inclusive, he did a business of a million dollars a year. He was the pioneer miller of the city and was the founder of the great milling business now conducted under the title of Commercial Milling Company. His success was worthily won and was of the most substantial order, while his incidental contribution to the industrial and commercial pres-
tige of Detroit was such as to give lasting honor to his name.
As the years passed and his financial standing became secure, Mr. Henkel retired from the more active responsibilities of business, relegating the same largely to his sons, and in 1878 he began making annual trips to Europe.
The secret of Mr. Henkel's long life and exceptional strength lay in his abstemious habits and the good care he took of himself. He was of robust constitution, and though never considering himself an athlete he could, when a young man, hold out a barrel of flour with his two hands. It is related that on one occasion a prize-fighter entered his store and made himself disagreeable, whereupon Mr. Henkel caught him by the shoulders, dragged him to the door and thumped his head on the sill until he promised to be good. Heart failure was the immediate cause of the death of Mr. Henkel, although his health had been impaired for some time prior to his demise, which took place at his home, 706 Fort street, west, at eleven o'clock on the night of May 23, 1904. He was one of the sterling pioneer business men of Detroit and his loyalty to the city was shown in manifold ways. No citizen was more progressive and public-spirited, and none more ready to aid worthy objects — religious, charitable and benevolent.
In politics Mr. Henkel gave stanch allegiance to the Democratic party, and in 1865 he was elected a member of the city board of aldermen. Later he was a delegate to the constitutional convention of the state and for eleven years served as a member of the board of fire commissioners of Detroit. Prior to this, in 1847, he had joined the old volunteer fire department, in which he took deep interest. He served as president of the board of fire commissioners in later years and upon his retirement from this office he was presented with a gold commemorative medal, which he ever afterward prized most highly. Though a stalwart Democrat in a generic way, he was independent in local affairs and gave his support to men and measures meeting the approval of his judgment, irrespective of partisan lines.
He erected a fine mansion of thirty rooms on West Fort street, and after his death his widow disposed of this property and built her present beautiful home, at 340 East Grand boulevard, in one of the most attractive residence districts of the city. A man of fine social instincts and genial personality, Mr. Henkel won and retained friends in all classes. He was appreciative of the refining influences of life, especially music,* and was a lifelong member of the Harmonic Society, the leading German social and musical organization of Detroit. He also held membership in the German Bowling Club and the Detroit Board of Trade. In his death the city mourned the loss of one of its sterling citizens and pioneer business men, and his name merits enduring place on the roster of those who have contributed much to the development an4 upbuilding of the fair metropolis of Michigan.
On the 27th of January, 1859, Mr. Henkel was united in marriage to Miss Julia Mordhorst, who was bom and reared in Germany and who is a daughter of John and Anna Nordhorst, her parents passing the closing years of their lives in Detroit. Mrs. Henkel came to America when seventeen years of age, in company with her brother John, and her marriage was celebrated in a frame house that stood on the site of the present county building. She has been a resident of Detroit since her girlhood and is now one of the venerable and loved pioneer women of the city in which she and her husband lived their wedded life of nearly a half century and which is endeared to her by the gracious memories and associations of the past.
Mr. and Mrs. Henkel became the parents of eleven children, of whom four died in infancy. Concerning those who attained to years of maturity the following brief record is given in conclusion of this memoir: Robert, who is one of the representative business men of Detroit, married Miss Athene Yemans and they have three children Robert Y., Athene Julia and Frederick; Julia H. is the wife of Albert H. Stemberger, of Detroit, and they have two children — Elsie, and Albert H. ; Walter, who likewise is a prominent business man of his native city, married Miss Minnie Kenzie and they have one child — Julia ; Herman married Miss Anna Salmon and is like- wise identified with prominent business interests in Detroit; Louis D., died in Germany, at the age of twenty-three years; Julius F., another son who is well upholding the prestige of the name in Detroit, married Miss Emeline Lichtenberg; and Lillian Martha is the wife of Julius H. Haass, president of the Home Savings Bank, of Detroit, their only child being a daughter, Constance.