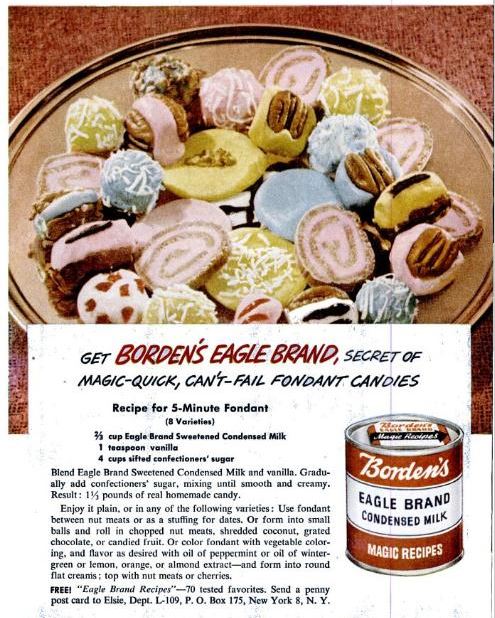 Get Borden's Eagle Brand, secret of magic-quick, can't-fail fondant candies
Recipe for
5-Minute Fondant
8 Varieties
2/3 cup Eagle Brand Sweetened Condensed Milk
1 teaspoon vanilla
4 cups sifted confectioners' sugar
Blend Eagle Brand Sweetened Condensed Milk and vanilla. Gradually add confectioners' sugar, mixing until smooth and creamy.
Result: 1/3 pounds of real homemade candy.
Enjoy it plain, or in any of the following varieties: Use fondant between nut meats or as a stuffing for dates. Or form into small balls and roll into chopped nut meats, shredded coconut, grated chocolate, or candied fruit. Or color fondant with vegetable coloring, and flavor as desired with oil of peppermint or oil of wintergreen or lemon, orange or almond extract-and form into round flat creams; top with nut meats or cherries.