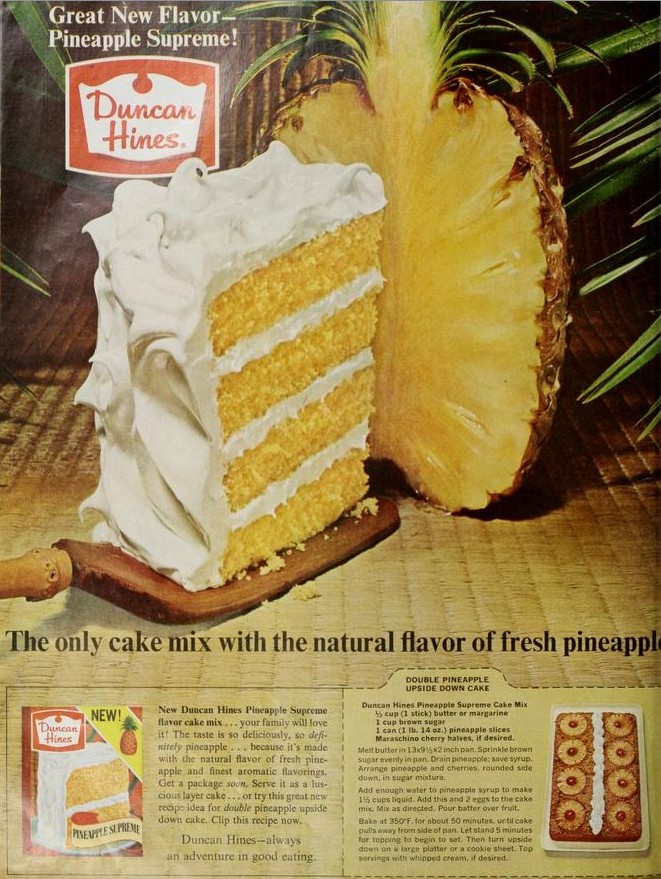 The only cake mix with the natural flavor of fresh pineapple.
New Duncan Hines Pineapple Supreme flavor cake mix…your family will love it! The taste is so deliciously pineapple…because it's made with the natural flavor of fresh pineapple and finest aromatic flavorings.
Get a package soon. Serve it as a luscious layer cake…or try this great new recipe idea for double pineapple upside down cake. Clip this recipe now.
Duncan Hines-always an adventure in good eating.
Double Pineapple Upside Down Cake
Duncan Hines Pineapple Surpreme Cake Mix
1/2 cup (1 stick) butter or margarine
1 cup brown sugar
1 can (1 lb. 14 oz.) pineapple slices
Maraschino cherry halves, if desired
Melt butter in 13×9 1/2x 2-inch pan. Sprinkle brown sugar evenly in pan. Drain pineapple; save syrup. Arrange pineapple and cherries, rounded side down, in sugar mixture.
Add enough water to pineapple syrup to make 1 1/3 cups liquid. Add this and 2 eggs to the cake mix. Mix as directed. Pour batter over fruit.
Bake at 350 degrees F. for about 50 minutes, until cake pulls aways from side of pan. Let stand 5 minutes for topping to begin to set. Then turn upside down on a large platter or cookie sheet. Top servings with whipped cream, if desired.