One Pot Supper. Easy Meal for 4 made with Campbell's Soup.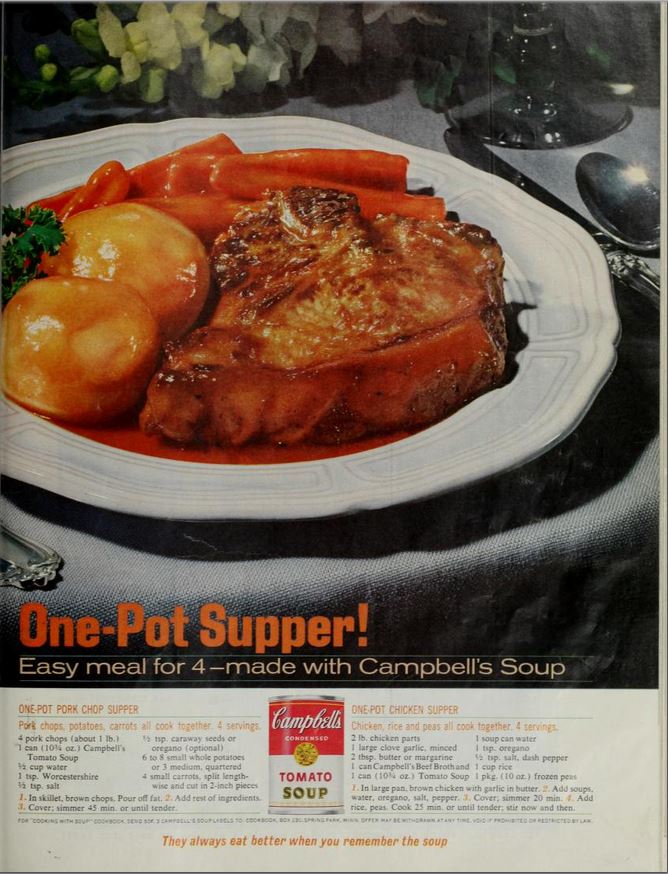 One-Pot Pork Chop Supper
Pork chops, potatoes, carrots all cook together. 4 servings
4 pork chops (about 1 lb.)
1 can (10 1/4 oz.) Campbell's Tomato Soup
1/2 cup water
1 teaspoon Worcestershire
1/2 teaspoon salt
1/2 teaspoon caraway seeds or oregano (optional)
6-8 small whole potatoes or 3 medium, quartered
4 small carrots, split length-wise and cut into 2-inch pieces
In skillet, brown chops. Pour off fat. Add rest of ingredients. Cover; simmer 45 minutes or until tender.
One-Pot Chicken Supper
Chicken, rice and peas all cook together. 4 servings
2 lb. chicken parts
1 large clove garlic, minced
2 tablespoons butter or margarine
1 can Campbell's Beef Broth and 1 can (10 1/4 oz.) Tomato Soup.
1 soup can water
1 teaspoon oregano
1/2 teaspoon salt, dash pepper
1 cup rice
1 package (10 oz.) frozen peas
In large pan, brown chicken with garlic in butter. Add soups, water, oregano, salt, pepper. Cover; simmer 20 minutes. Add rice, peas. Cook 25 minutes or until tender; stir now and then.