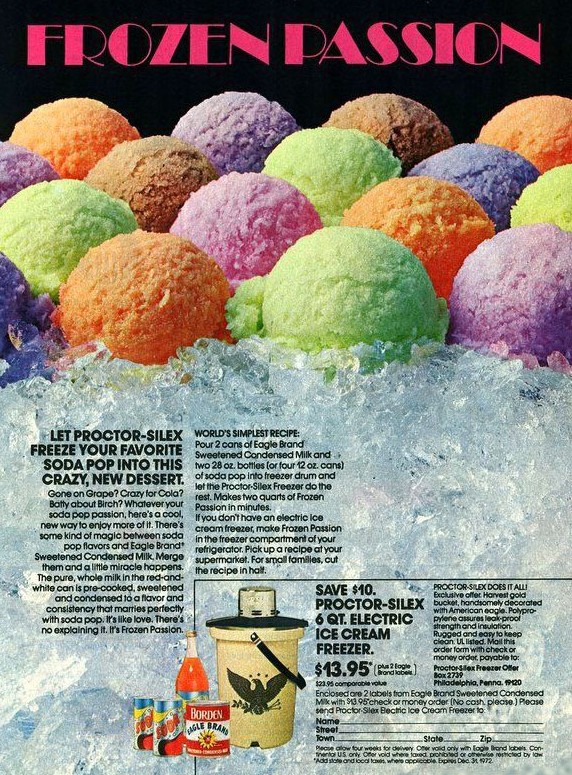 Let Proctor-Silex Freeze Your Favorite Soda Pop Into This Crazy, New Dessert.
Gone on Grape? Crazy for Cola? Batty about Birch? Whatever your soda pop passion, here's a cool, new way to enjoy more of it. There's some kind of magic between soda pop flavors and Eagle Brand Sweetened Condensed Milk. Merge them and a little miracle happens. The pure, whole milk in the red-and-white can is pre-cooked, sweetened and condensed to a flavor and consistency that marries perfectly with soda pop. It's like love. There's no explaining it. It's Frozen Passion.
World's Simplest Recipe:
Soda Pop Ice Cream
Pour 2 cans of Eagle Brand Sweetened Condensed Milk and two 28 oz. bottles (or four 12 oz. cans) of soda pop into freezer drum and let the Proctor-Silex Freezer do the rest. Makes two quarts of Frozen Passion in minutes. If you don't have an electric ice cream freezer, make Frozen Passion in the freezer compartment of your refrigerator. Pick up a recipe at your supermarket. For small families, cut the recipe in half.
Or 4 cups soda pop, flavor of choice
1 14 oz. can sweetened condensed milk
1 cup whole milk
Mix all ingredients together and pour into 2 qt. ice cream maker. Freeze as ice cream maker directs. Place in freezer afterward.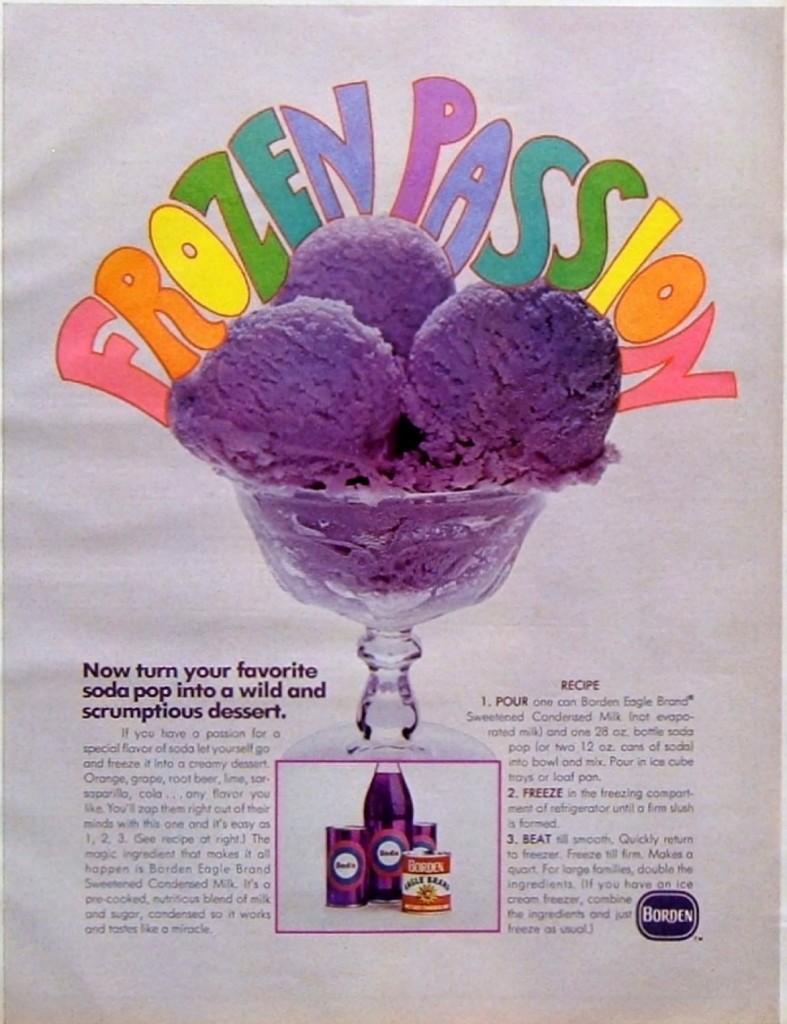 Through the years, I've noticed more people mentioning cakes, pies and meat recipes that included pop as an ingredient.
It wasn't until I read "Fix-It and Forget-It 5-Ingredient Favorites" by Phyllis Pellman Good (Good Books, 2007) that I finally decided to give soda-pop recipes a try. Much like cooking with beer or wine, the flavor cooked isn't the same as when you drink it. Cakes turn out super-moist, and meats are tender and juicy.
Lemon-Lime Soda-Pop Cake
3 sticks butter, softened
3 cups sugar
5 eggs
3 cups flour
2 tablespoons lemon extract
3/4 cup lemon-lime soda
Glaze:
1-1/3 cups powdered sugar
2 tablespoons lemon juice
Preheat oven to 325 F. Cream butter and sugar together until light and fluffy. Gradually add eggs, one at a time. Add flour, lemon extract and lemon-lime soda. Pour into well-greased Bundt pan. Bake at 325 F for 1 hour, 15 minutes. Mix together powdered sugar and lemon juice to make glaze and drizzle on top of cake once cooled.
Optional: Dust with powdered sugar instead of glaze.
7 Up Biscuits
4 cups Bisquick baking mix
1 cup sour cream
6 ounces 7 Up
Preheat oven to 400 F. Place baking mix in a mixing bowl, and cut in sour cream until mix is crumbly. Add 7 Up and combine by hand. Don't overhandle. Roll onto floured surface to about 1/2-inch thickness. Drop or cut with biscuit cutter and place on greased baking sheet. Bake for 10 minutes or until golden brown. Makes 15.
Honey Ginger-Ale Ham
6 pounds semi-boneless ham
1 (12 ounce) can ginger ale
1 cup water
1/4 cup molasses
several whole cloves
2 tablespoons honey mustard
3/4 cup brown sugar
Pour ginger ale, water and molasses over ham. Cover with foil and bake in preheated 350 F oven for 90 minutes. Add more water if liquid cooks off. Once ham is cooked, dot ham with whole cloves. Mix honey mustard and brown sugar to form a paste. Spread it on and bake until the glaze melts.
Cola Pork Roast
1 Boston butt pork
1 (12 ounce) can cola
1 can cream-of-mushroom soup
1 package onion soup mix
Place roast in a slow cooker. Mix cola, mushroom soup and onion soup mix. Pour over pork roast. Cook on low for 7 hours.