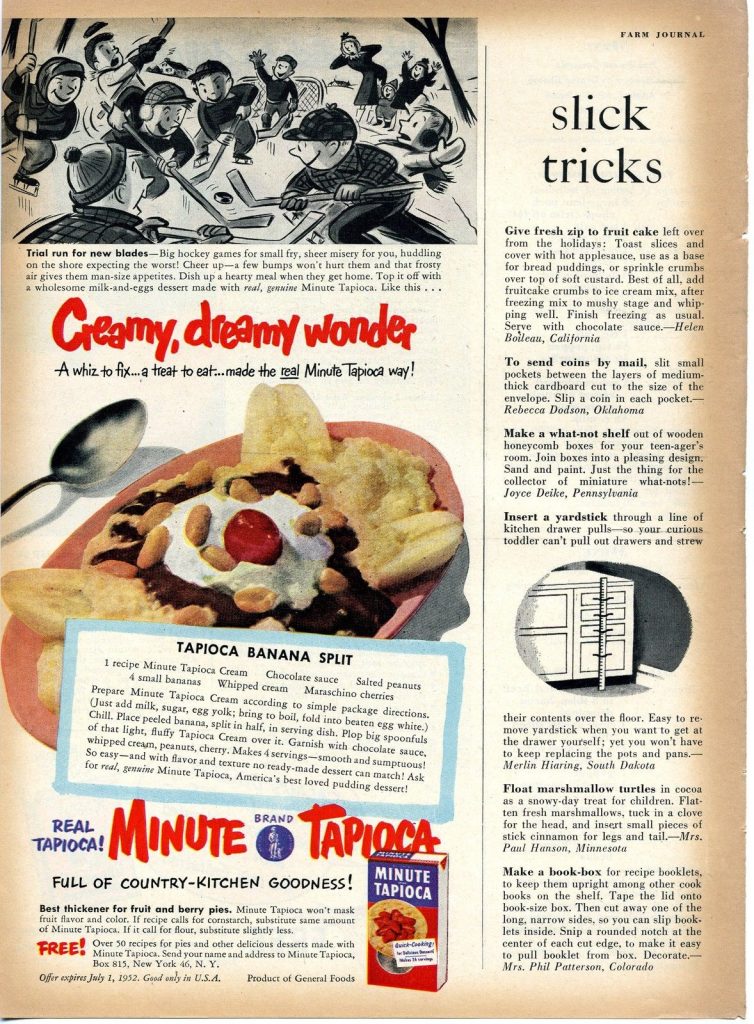 Slick Tricks
Give fresh zip to fruit cake left over from the holidays:
Toast slices and cover with hot applesauce, use as a base for bread puddings, or sprinkle crumbs over top of soft custard. Best of all, add fruitcake crumbs to ice cream mix, after freesing mix to mushy stage and whipping well. Finish freezing as usual. Serve with chocolate sauce.
To sends coins by mail,
slit small pockets between the layers of medium thick cardboard cut to the size of the envelope. Slip a coin in each pocket.
Make a what-not shelf
out of wooden honeycomb boxes for your teenagers room. Join boxes into a pleasing design. Sanf and paint. Just the thing for the collector of miniature what-nots!
Insert a yardstick
through a line of kitchen drawer pulls-so your curious toddler can't pull out drawers and strew their contents over the floor. Easy to remove yardstick when you want to get at the drawer yourseld; yet you won't have to keep replacing the pots and pans.
Float marshmallow turtles
in cocoa as a snowy-day treat for children. Flatten marshmallows, tuck in a clove for the head and insert small pieces of stuck cinnamon for legs and tail.
Make a book-box
for recipe booklets, to keep them upright among other cook books on the shelf. Tape the lid onto book-size box. Then cut away one of the long, narrowsides, so you can slip booklets inside. Snip a rounded notch at the center of each cut edge to make it easy to pull booklet from box. Decorate.
Tapioca Banana Split
1 recipe Minute Tapioca Cream
4 small bananas
Chocolate Sauce
Whipped Cream
Salted Peanuts
Maraschino Cherries
Prepare Minute Tapioca Cream according to simple package directions. (Just add milk, sugar, egg yolk; bring to boil, fold into beaten egg white.) Chill. Place peeled banana, split in half, in serving dish. Plop big spoonfuls of that light, fluffy Tapioca Cream over it. Garnish with chocolate sauce, whipped cream, peanuts, cherry. Makes 4 servings-smooth and sumptious!
So easy- and with flavor and texture no ready-made dessert can match! Ask for real, genuine Minute Tapioca, America's best loved pudding dessert!