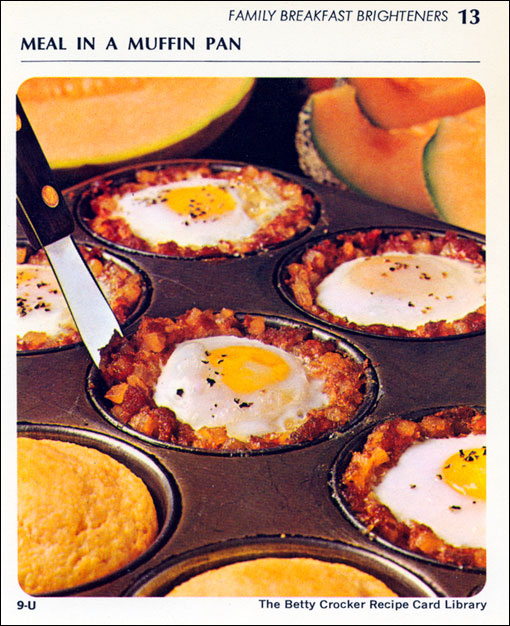 Using a muffin tin isn't just for muffins and cupcakes. You can make muffin pan meals (breakfast, lunch and dinner), too. It's great for portion control. Muffin tin recipes can be a lifesaver when you have guests and don't want to spend all your time cooking. Use your pan for brownies, meatloaf or cheesecake, or line them with foil and use them as gelatin molds. Muffin tin recipes have become popular recently, but they've been around for decades. Pictured above is Meal in a Muffin Pan from 1971.
Meal In A Muffin Pan
(6 servings)
1 can (15 and 1/2 ounces) corned beef hash
6 large eggs
salt and pepper – to taste
1/2 package of Betty Crocker corn muffin mix (or any brand 8.5 oz)
Heat oven to 400 degrees. Generously grease 12 muffin cups. Press about 2 Tablespoons of hash in each of 6 muffin cups, making deep indentation in center of hash. Break an egg into each hash cup; season with salt and pepper.
Prepare muffin mix as directed; fill remaining muffin cups 1/2 full. Bake 15 to 20 minutes or until muffins are golden brown and eggs are desired doneness. –Betty Crocker Recipe Card Library
Here are a few more muffin tin recipes.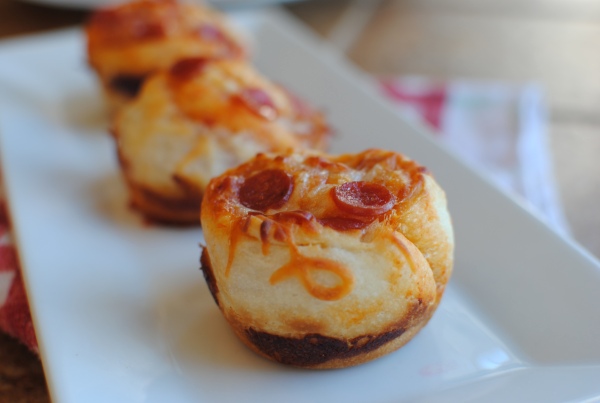 Pizza Cupcakes:
http://pennywisecook.com/stuffed-pizza-cupcakes/
Nest Egg
1 bag frozen shredded hash-brown potatoes, defrosted
6 tablespoons butter
8 eggs
2/3 cup milk
1 cup breakfast sausage, diced
salt and pepper, to taste
1 cup cheddar cheese, shredded
Cook's note: You can add red and green peppers, onions, crumbled bacon, mushrooms, salsa or use refrigerated biscuits instead of shredded potatoes. Bake sunny-side-up eggs in a muffin pan, too. Just crack the egg into a greased muffin tin and bake at 350 F for about 15 minutes or until egg whites are solid.
Preheat oven to 400 F. In a large bowl, toss together the potatoes and 4 tablespoons melted butter. Spoon and press the potato mixture into each muffin pan cup so it covers the bottom and sides. Bake for 30 minutes or until golden brown. Remove from the oven. Let cool.
Whisk the eggs and milk until frothy. Using a large skillet, add the remaining 2 tablespoons butter to the pan over medium heat. Add the sausage and cook thoroughly. Add the eggs, and scramble cook until set but underdone. Add salt and pepper to taste. Lower oven temperature to 350 F. Fill each muffin cup with the egg mixture. Sprinkle with cheese. Put in oven until cheese melts. Remove egg nests from muffin pan. Serve hot.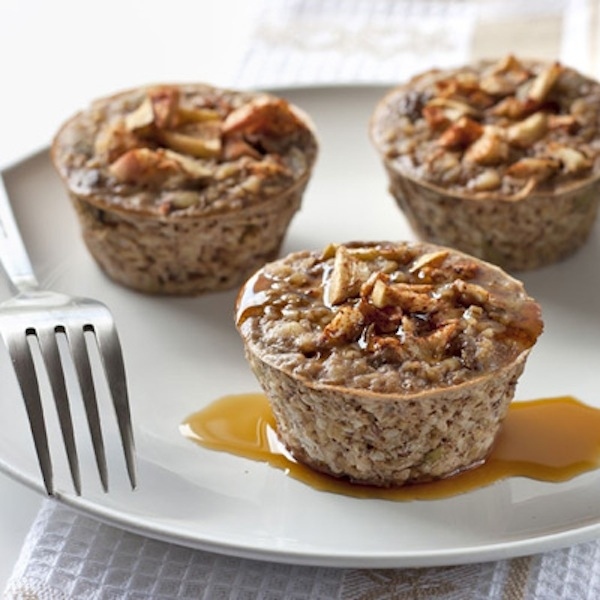 Baked oatmeal:
http://www.redbookmag.com/food-recipes/recipes/a4726/your-new-favorite-oatmeal-muff/
Pineapple Cakes
1/4 cup butter
2/3 cup brown sugar, packed
1 cup canned pineapple tidbits or rings
6 maraschino cherries
1-1/3 cups flour
1 cup granulated sugar
1/3 cup shortening
3/4 cup milk
1-1/2 teaspoons baking powder
1/4 teaspoon salt
1 teaspoon vanilla extract
1 teaspoon lemon zest
1 egg
Preheat oven to 350 F. Melt butter in a small saucepan. Stir in brown sugar and mix until dissolved. Remove from heat. Using a large, lightly greased 6-cup muffin pan, evenly divide butter mixture into each cup. Add 2 tablespoons of pineapple or a single pineapple ring into each cup. Press a cherry into the center of the pineapple if using tidbits. Using an electric mixer on high speed, beat the remaining ingredients until combined. Divide batter evenly into each cup. Bake 30 minutes. Remove from muffin pan by loosening edges and inverting pan. If using pineapple rings, garnish with one cherry in the center of each cake. Allow to cool before serving.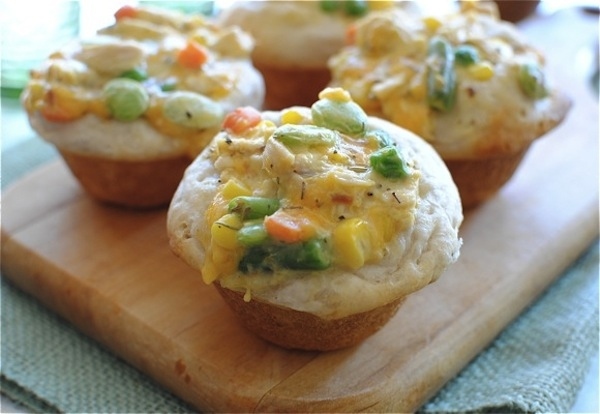 Pot pie:
http://www.tablespoon.com/recipes/chicken-pot-pie-cupcakes/88c3fb89-0b08-466d-bb26-27c50aac24fd
Muffin Pan Potatoes
1 clove garlic, minced
1 small onion, diced
1 cup mushrooms, chopped
10 medium, white potatoes, peeled and boiled until tender
1/2 stick butter or to taste
1 cup milk
3/4 cup all-purpose flour
4 eggs, beaten
4 teaspoons baking powder
salt and pepper, to taste
2 cups shredded cheese
Cook's note: This is a great way to use up leftover mashed potatoes. Substitute your favorite fixings such as ham, chives or ranch-dressing seasoning when mashing your potatoes.
Preheat oven to 375 F. Saute garlic, onion and mushrooms in a skillet. Using a mixer, mash your potatoes with all ingredients but the cheese until fluffy. Fold in shredded cheese. Grease pan. Scoop and evenly divide into muffin cups. Bake for 40 minutes or until golden brown. Remove from oven and let cool for 5 to 10 minutes before removing from pan.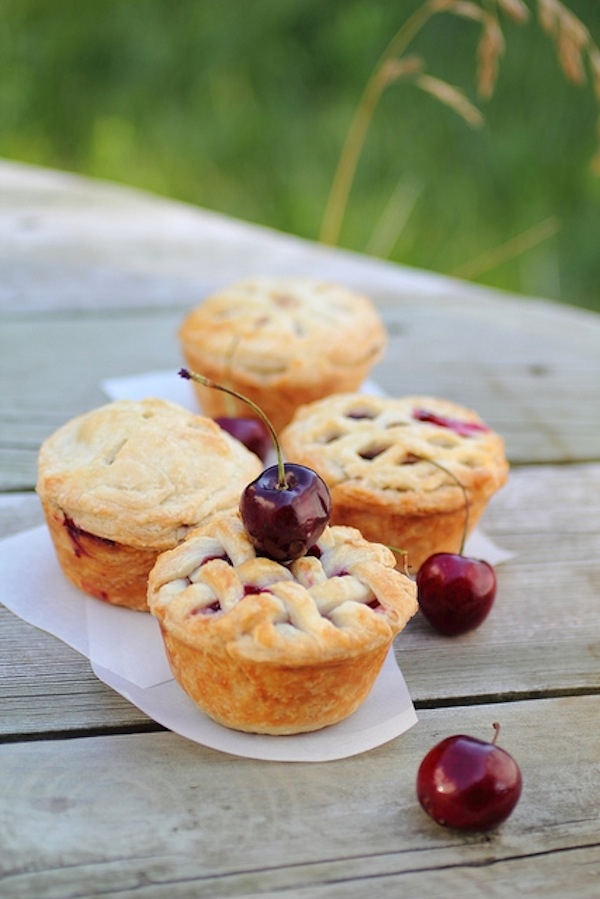 Cherry Pie:
http://www.adventuressheart.com/2011/08/mini-cherry-pies.html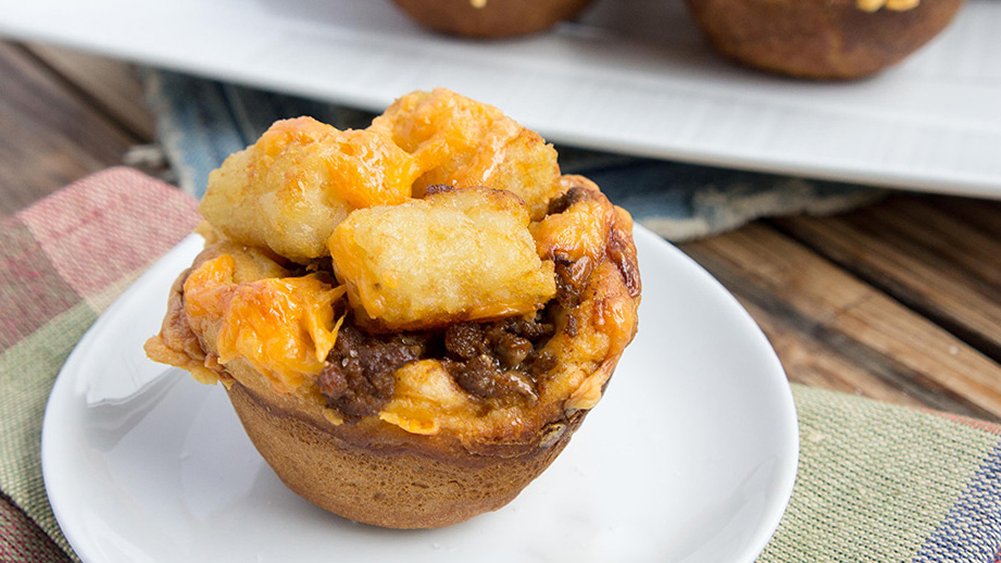 Mini beef and potato nuggets:
http://www.pillsbury.com/recipes/mini-beef-and-potato-nugget-casseroles/6b17982e-5808-4b2f-be89-592aa9a9e330
Muffin pan dutch babies
1 cup milk
1 cup flour
6 eggs
1/4 cup melted butter
dash salt
Preheat oven at 400 F. Grease muffin pan. Combine all ingredients with an electric mixer. Evenly pour mix into individual muffin cups. Bake for 15 minutes or until puffy. Remove from pan and serve with your favorite pancake toppings.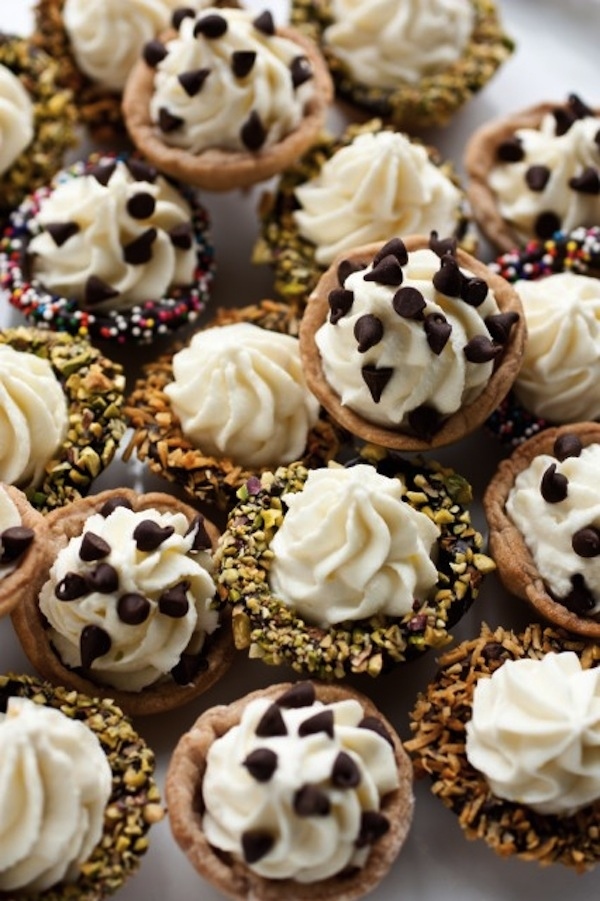 Cannoli bites:
http://www.cookingclassy.com/2013/04/cannoli-bites/