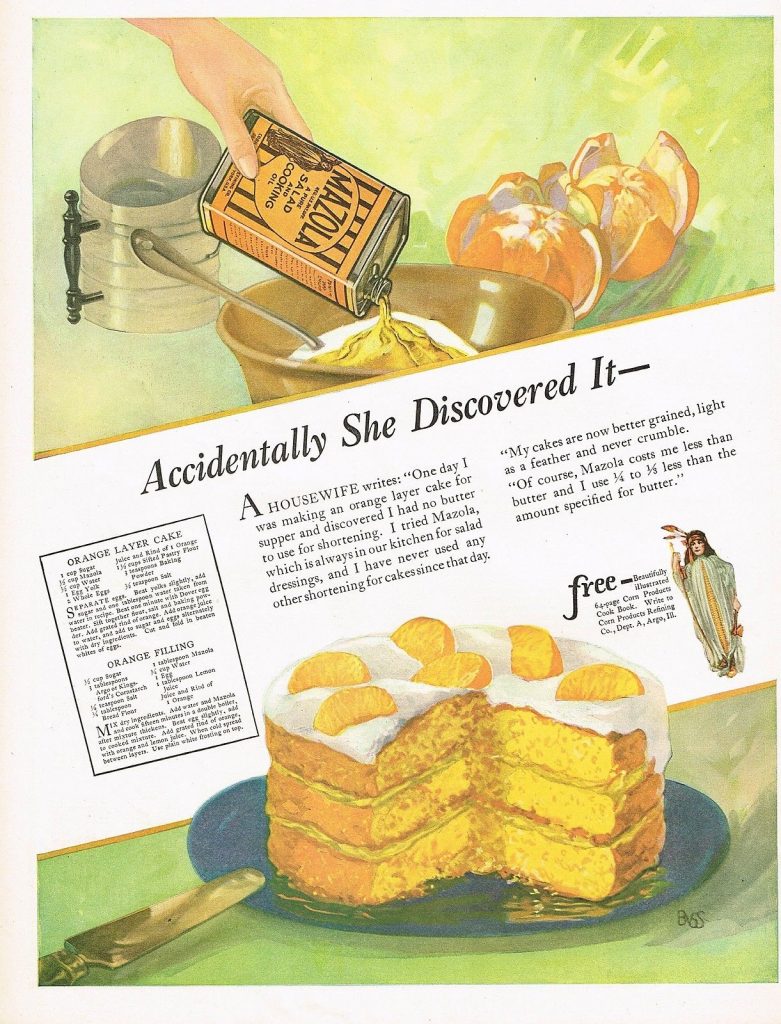 Orange Layer Cake
1 cup sugar
1/2 cup Mazola
1/2 cup water
1 egg yolk
2 whole eggs
Juice and rind of 1 orange
1 1/2 cups Sifted Pastry Flour
3 teaspoons baking powder
1/2 teaspoon salt
Separate eggs. Beat yolks slightly, add sugar and one tablespoon water taken ffrom water in recipe. Beat one minute with Dover egg beater. Sift together flour, salt and baking powder. Add grated rind of orange. Add orange juice to water, and add to sugar and eggs alternately with dry ingredients. Cut and fold in beaten whites of eggs.
Orange Filling
1/2 cup sugar
3 tablespoons Argo or Kingsford's Cornstarch
1/4 teaspoon salt
3/4 tablespoon bread flour
1 tablespoon Mazola
3/4 cup water
1 egg
1 tablespoon lemon juice
juice and rind of 1 orange
Mix dry ingredients. Add water and Mazola and cook fifteen minutes in a double boiler, after mixture thickens. Beat eggs slightly, add to cooked mixture. Add grated rind of orange, with orange and lemon juice. When cold spread between layers. Use plain white frosting on top.