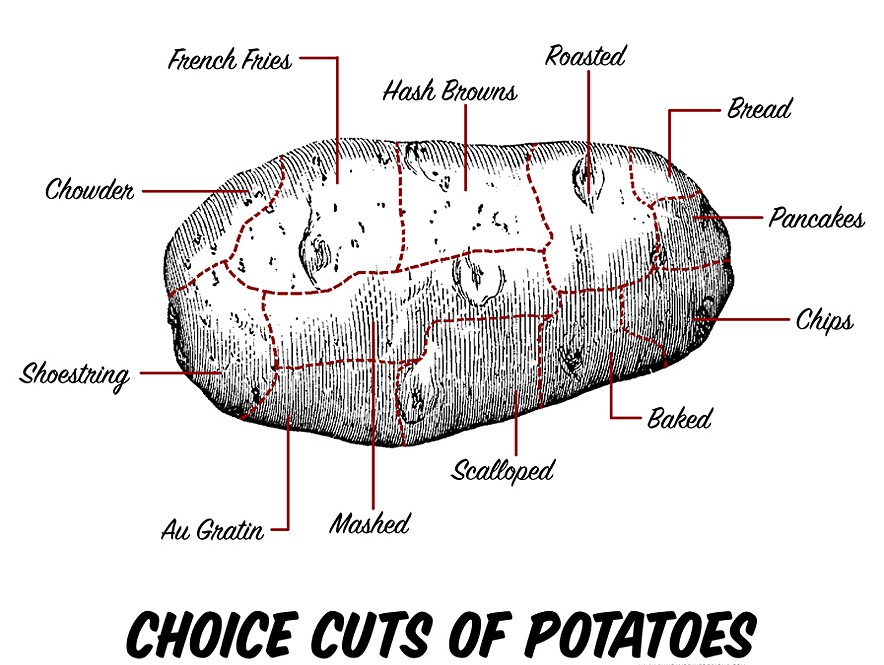 How to cook potatoes
The many ways to cook potatoes I know would make a cook book. When baking potatoes, after scrubbing well, cut a small piece from each end, then, instead of putting the potatoes on the bars or bottom of the oven, put them in a baking pan, and thus save the burning of one's fingers, for the pan can be drawn out every time the potatoes are to be turned, and they should be turned at least twice while baking to insure even cooking all through. I grease each potato.
Dutch Potatoes
Peel good sized potatoes, then cut out the centers with the apple corer. Keep the cut out centers to use in stews or for cream potatoes for breakfast, letting them stand in a bowl of cold water.
Through the center of the whole potato put a small sausage, being careful not to break the sausage casing; or the potato may be placed on end and the centers filled with chopped meat of any kind. Stand the prepared potatoes in a baking dish, put a thin slice of pork over the top of each, add a very little water to keep from burning, then bake until the potatoes are soft, basting once or twice during cooking.
Swedish Potatoes for Supper
Bake large potatoes until mealy; cut off the top, scoop out the potato, leaving a fairly thick skin; mash potatoes with butter, a little milk, pepper and salt, either minced hard boiled egg or any minced cold meat that you have on hand. Refill the cases with the mixture, fasten on tops with wooden toothpicks, set in the oven until hot through (two or three minutes), then serve.
French Potato Cake
Chop fine cold boiled potatoes, season with pepper and salt, onion and parsley chopped fine; heat two tablespoons of butter, add to potatoes, put in pan and cover. Let cook slowly until browned.
Mashed Potato Doughnuts
Take two tablespoons of butter, one cup of mashed potatoes, one and a half cups of sugar, one cup of sweet milk, four cups of flour, two eggs well beaten with a little salt, two teaspoons of
baking powder and fry in hot. grease.
Riced Potatoes
Peel, boil and mash with a little cream or milk, salt, pepper and butter; press through a ricer, which can be bought at any hardware store for a trifle. Do not touch the potatoes with a spoon, or they will lose the fluffy look.
Diced Potatoes
Potato dice are cut in half inch blocks. After they are fried a golden brown pile them lightly in a casserole or earthen dish; sprinkle with salt, pepper and a few drops of lemon and onion juice, then put in the oven until very hot and serve in the dish in which they were heated.
Here are more ways of serving potatoes. And the A-B-C of Potato Cookery