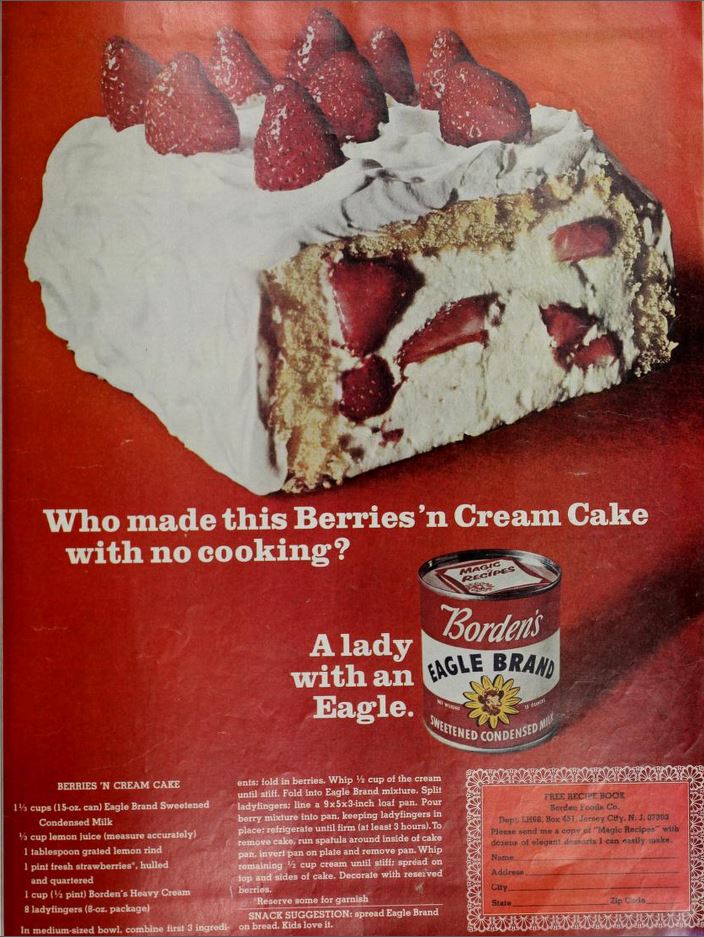 Who made this Berries 'n Cream Cake with no cooking?
Berries 'N Cream Cake
1 1/3 cups (15-oz. can) Eagle Brand Sweetened Condensed Milk
1/3 cup lemon juice (measure accurately)
1 tablespoon grated lemon rind
1 pint fresh strawberries* hulled and quartered
1 cup (1/2 pint) Borden's Heavy Cream
8 ladyfingers (8-oz. package)
In medium-sized bowl, combine first 3 ingredients; fold in berries. Whip 1/2 cup of the cream until stiff. Fold into Eagle Brand mixture. Split ladyfingers; line a 9x5x3-inch loaf pan. Pour berry mixture into pan, keeping ladyfingers in place; refrigerate until firm (at least 3 hours). To remove cake, run spatula around inside of cake pan, invert pan on plate and remove pan. Whip remaining 1/2 cup cream until stiff; spread on top and sides of cake. Decorate with reserved berries.
*Reserve for garnish.