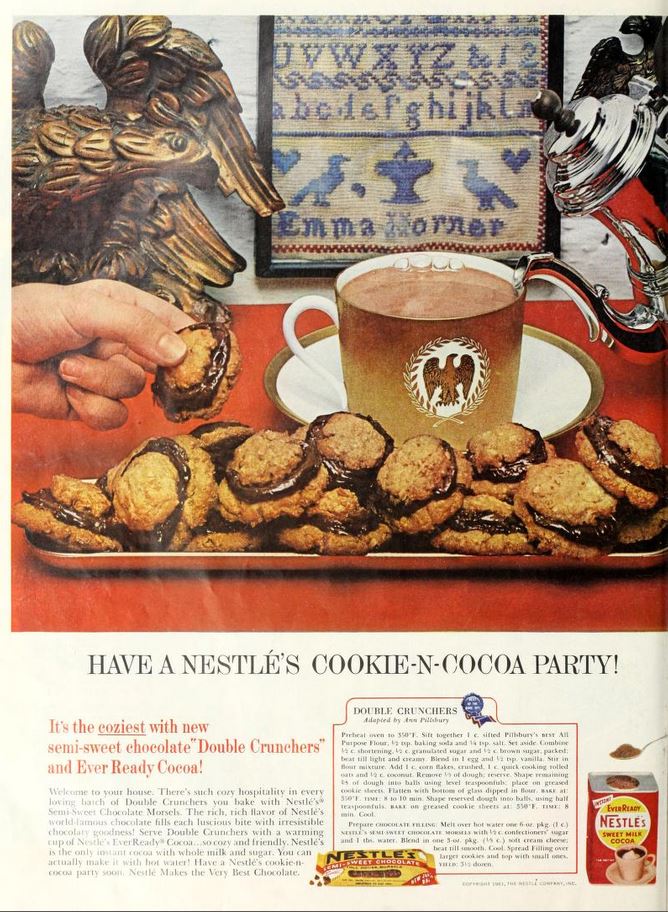 Double Crunchers
Preheat oven to 350 degrees F. Sift together 1 cup sifted Pillsbury's Best All Purpose Flourm 1/2 cup baking soda and 1/4 teaspoon salt. Set aside. Combine 1/2 cup shortening, 1/2 cup granulated sugar, and 1/2 cup brown sugar, packed; beat till light and creamy. Blend in 1 egg and 1/2 teaspoon vanilla. Stir in flour mixture. Add 1 cup corn flakes, crushed, 1 cup quick cooking rolled oats and 1/2 cup coconut. Remove 1/3 dough recipe. Shape remaining 2/3 of dough into balls using level teaspoonfuls; place on greased cookie sheets. Flatten with bottom of glass dipped in flour. Bake at 350 degrees F. Bake: 8-10 minutes. Shape reserved dough into balls, using half teaspoonfuls. Bake on greased cookie sheets at 350 degrees F. Time: 8 minutes. Cool.
Prepare Chocolate Filling. Melt over hot water one 6 oz. package (1 cup) Nestle's Semi-Sweet Chocolate Morsels with 1/2 cup confectioners' sugar and 1 tablespoon water. Blend in one 3-oz. package (1/2 cup) soft cream cheese; beat until smooth. Cool. SPread Filling over larger cookies and top with smaller ones.
Yield: 2 1/2 dozen.
Welcome to your house. There's such cozy hospitality in every loving batch of Double Crunchers you bake with Nestle's Semi-Sweet Chocolate Morsels. The rich, rich flavor of Nestle's world famous chocolate fills each luscious bite with irresistible chocolate goodness! Serve Double Crunchers with a warming cup of Nestle's Ever Ready Cocoa, so cozy, so friendly. Nestle's is the only instant cocoa with whole milk and sugar. You can actually make it with hot water! Have a Nestle's cookie-n-cocoa party soon. Nestle makes the very best chocolate.