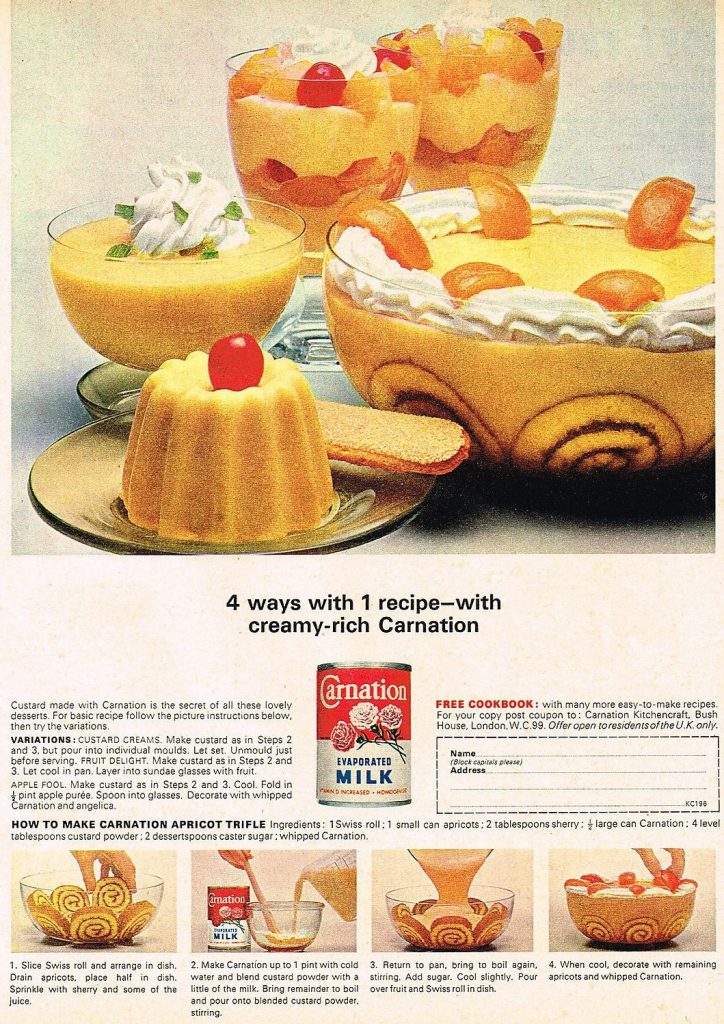 4 in 1 Custard Recipes
4 ways with 1 recipe-with creamy-rich Carnation
Custard made with Carnation is the secret of all these lovely desserts. For basic recipe follow the picture instructions below, then try the variations.
Variations:
Custard Creams:
Make custard as in Steps 2 and 3, but pour into individual moulds. Let set. Unmould just before serving.
Fruit Delight:
Make custard as in Steps 2 and 3. Let cool in pan. Layer in sundae glasses with fruit.
Apple Fool:
Make custard as in Steps 2 and 3. Fold in 1/2 pint apple puree. Spoon into glasses. Decorate with whipped Carnation and angelica.
How to make Carnation Apricot Trifle:
Ingredients:
1 Swiss Roll, 1 small can apricots, 2 tablespoons sherry, 1/2 can Carnation, 4 level tablespoons custard powder, 2 dessert spoons caster sugar, whipped Carnation.
1. Slice Swiss roll and arrange in dish. Drain apricots, place half in dish. Sprinkle with sherry and some of the juice.
2. Make Carnation up to 1 pint with cold water and blend custard powder with a little of the milk. Bring remainder to boil and pour into blended custard powder, stirring.
3. Return to pan, bring to boil again, stirring. Add sugar. Cool slightly. Pour over fruit and Swiss roll in dish.
4. When cool, decorate with remaining apricots and whipped Carnation.