Ever taste the famous Blitz Torte? It's a luscious cake of meringue layers and fruit! Here's a Blitz Torte recipe.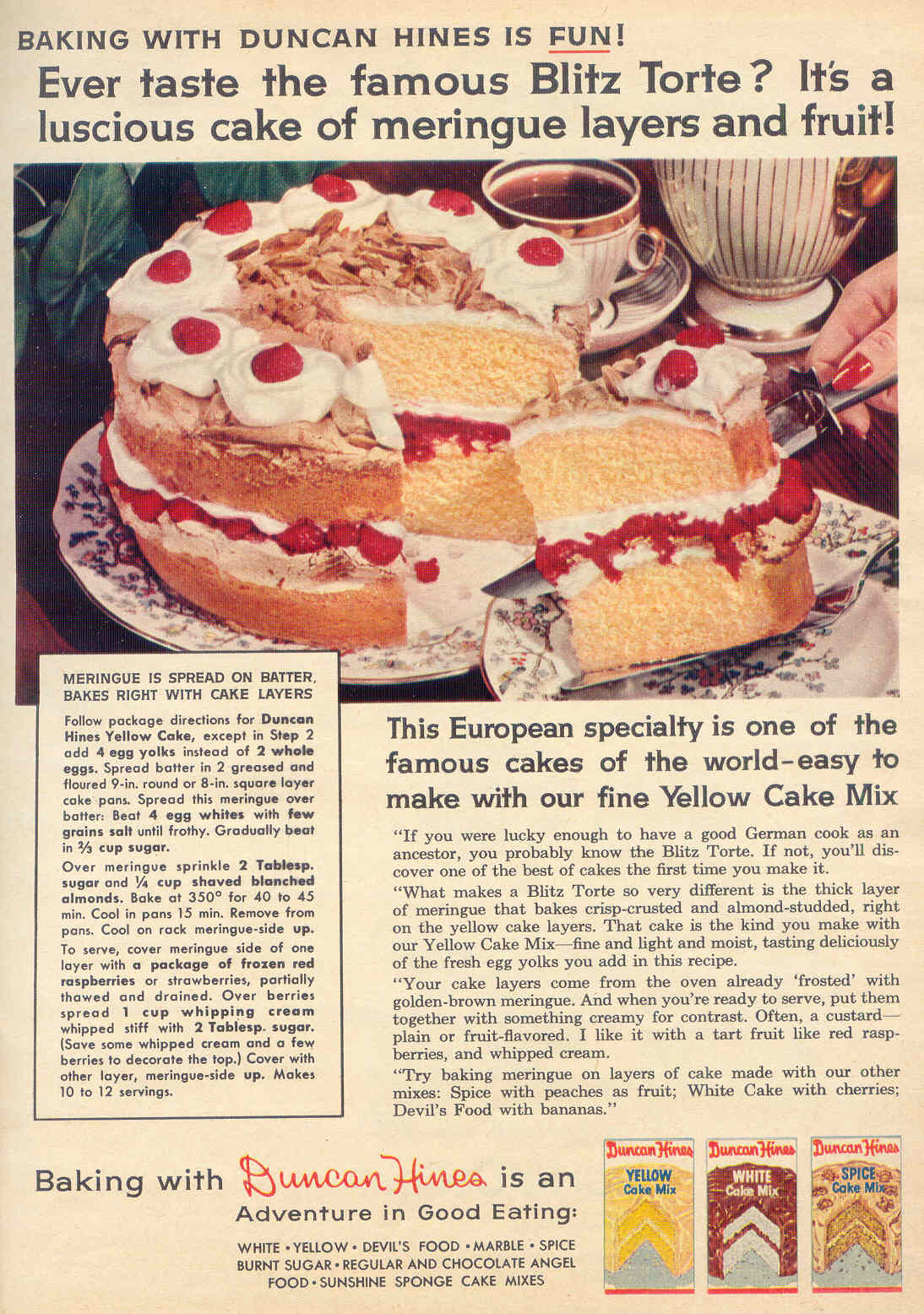 This European specialty is one of the famous cakes of the world-easy to make with our fine Yellow Cake Mix.
"If you were lucky enough to have a good German cook as an ancestor, you probably know the Blitz Torte. If not, you'll discover one of the best of cakes the first time you make it.
"What makes a Blitz Torte so very different is the thick layer of meringue that bakes crisp-crusted and almond-studded, right on the yellow cake layers. That cake is the kind you make with our Yellow Cake Mix-fine and light and moist, tasting deliciously of the fresh egg yolks you add in this recipe.
"Your cake layers come from the oven already 'frosted' with golden-brown meringue. And when you're ready to serve, put them together with something creamy for contrast. Often, a custard-plain or fruit-flavored. I like it with a tart fruit like red raspberries, and whipped cream.
"Try baking meringue on layers of cake made with our other mixes: Spice with peaches as fruit; White Cake with cherries; Devil's Food with bananas."
Meringue is spread on batter, bakes right with the cake layers.
Follow the package directions for Duncan Hines Yellow Cake, except in Step 2 add 4 egg yolks instead of 2 whole eggs. Spread batter in 2 greased and floured 9-inch round or 8-inch square layer cake pans. Spread this meringue over batter: Beat 4 egg whites with few grains salt until frothy. Gradually beat in 2/3 cup sugar.
Over meringue sprinkle 2 tablespoons sugar and 1/4 cup shaved blanched almonds. Bake at 350 degrees F. for 40-45 minutes. Cool in pans 15 minutes. Remove from pans. Cool on rack meringue-side up.
To serve, cover meringue side of one layer with a package of frozen red raspberries or strawberries, partially thawed and drained. Over berries, spread 1 cup whipping cream whipped stuff with 2 tablespoons sugar. (Save some whipped cream and a few berries to decorate the top.) Cover with other layer, meringue-side up. Makes 10-12 servings.
Here are more Duncan Hines Recipes.