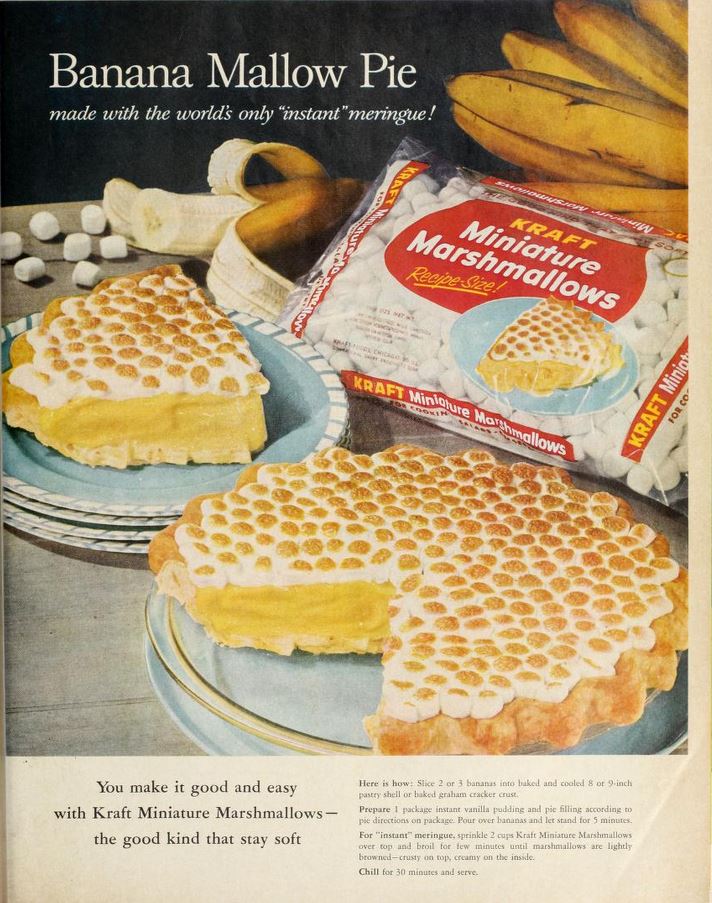 Banana Mallow Pie
You make it good and easy with Kraft Miniature Marshmallows-the good kind that stay soft.
Here is how: Slice 2 or 3 bananas into baked and cooled 8 or 9-inch pastry shell or baked graham cracker crust.
Prepare: 1 package instant vanilla pudding and pie filling according to pie directions on package. Pour over bananas and let stand for 5 minutes.
For "instant" meringue: Sprinkle 2 cups Kraft Miniature Marshmallows over top and broil for a few minutes until marshmallows are lightly browned-crusty on top, creamy on the inside.
Chill: for 30 minutes and serve.
Uses for Leftover Bananas
If you have leftover bananas, don't throw them away. You can mash and freeze them (put in ice cube trays) or freeze with the peels still on. Once thawed, simply cut off an end and squeeze the banana out of the peel. They're delicious in muffins, bread, smoothies, pancakes, cookies, pudding, banana pops, cakes or simply spread on sandwiches with peanut butter. Add them to milkshakes, or combine them with yogurt and spoon them into a popsicle mold, freeze them and make frozen yogurt pops.
You can make a mock ice cream, too. Simply cut a frozen banana into four sections and blend with a splash of milk in your food processor until creamy. Then enjoy a frozen treat that's lower in fat than ice cream, but doesn't sacrifice taste. Can add ingredients such as vanilla, peanut butter or strawberries.
How do you use your overripe bananas?
Here are some tasty recipes to help you use them up.
Cream-Cheese Banana Bread
Bread
3/4 cup butter, softened
1 (8-ounce) package cream cheese
2 cups sugar
2 large eggs
3 cups flour
1/2 teaspoon baking powder
1/2 teaspoon baking soda
1/2 teaspoon salt
1-1/2 cups mashed bananas (about 4 medium)
1 cup chopped pecan, toasted
1/2 teaspoon vanilla
Streusel
1/2 cup packed brown sugar
1/2 cup chopped, toasted pecans
1 tablespoon flour
1 tablespoon melted butter
1/8 teaspoon cinnamon
Preheat oven to 350 F. Beat butter and cream cheese together with an electric mixer until creamy. Add sugar gradually, and beat until light and fluffy. Add eggs, one at a time, and beat until blended. Gradually add flour and the next three ingredients to butter mixture, beating at low until just blended. Stir in bananas, pecans and vanilla. Spoon batter into two greased and floured 8-inch-by-4-inch loaf pans. Batter will be thick.
For streusel: Stir together 1/2 cup packed brown sugar, 1/2 cup chopped toasted pecans, 1 tablespoon flour, 1 tablespoon melted butter and 1/8 teaspoon cinnamon. Sprinkle mixture evenly over batter in pans. Bake for 1 hour or until a wooden pick inserted in the center comes out clean.
Bread may be shielded with aluminum foil during the last 15 minutes of baking to prevent excessive browning of streusel. Cool in pans on a wire rack for 10 minutes. Remove from pans, and cool an additional 30 minutes before slicing. For perfect slices, cut with a serrated or electric knife after cooling. Makes two loaves.
Sour-Cream Banana Bundt Cake
1/3 cup butter, softened
1-1/4 cups sugar
2 eggs
1 teaspoon vanilla
3 medium ripe bananas, mashed
2 cups flour
1-1/4 teaspoons baking powder
1 teaspoon baking soda
1/2 teaspoon salt
1 cup sour cream
3/4 cup chopped walnuts
powdered sugar, for dusting
In a mixing bowl, cream together butter and sugar. Add eggs, one at a time, until well blended. Stir in vanilla and bananas. In a separate bowl, combine flour, baking powder, baking soda and salt. Add to banana mixture alternately with sour cream. Stir in nuts. Pour into a greased and floured 10-inch Bundt pan.
Bake in a preheated 350 F oven for 50 minutes or until a toothpick comes out clean. Cool, and then dust with powdered sugar before serving.
Banana Bars
1/2 cup butter or margarine, softened
2 cups sugar
3 eggs
1-1/2 cups mashed, ripe bananas (about 3 medium)
1 teaspoon vanilla extract
2 cups all-purpose flour
1 teaspoon baking soda
pinch of salt
frosting (homemade or 1 to 2 containers store-bought)
chopped nuts, for garnish
Cream butter and sugar. Beat in eggs, bananas and vanilla. Combine flour, salt and baking soda. Add to creamed mixture, and beat well. Pour into a greased 15-by-10-by-1-inch or 2 5-by-9-inch baking pan(s). Bake at 350 F for 25 minutes, or until bars test done. Cool. Frost. Add chopped nuts for garnish.
Banana Frosting
2 large ripe bananas, mashed
1/2 teaspoon lemon juice
1/4 cup butter
3-1/2 cups powdered sugar
Mix together bananas and lemon juice. In a separate bowl, beat butter until soft and creamy. Gradually and alternately add powdered sugar and banana mixture to butter, and beat until fluffy.
Banana Oatmeal Bread
1 cup packed brown sugar
1/4 cup and 3 tablespoons vegetable oil
2 large egg whites
1 large egg
1-1/3 cups mashed ripe banana (about 2 large)
1 cup regular oats
1/2 cup milk
2 cups all-purpose flour
1 tablespoon baking powder
1/2 teaspoon baking soda
1/2 teaspoon salt
1/2 teaspoon ground cinnamon
cooking spray
Preheat oven to 350 degrees F. Combine first four ingredients in a large bowl; beat well at medium speed. Combine banana, oats and milk; add to sugar mixture, beating well. Spoon flour into dry measuring cups; level with a knife. Combine flour, baking powder, baking soda, salt and cinnamon. Add to sugar mixture; beat just until moist. Spoon batter into a 9-by-5-inch loaf pan coated with cooking spray. Bake at 350 degrees F for one hour and 10 minutes or until a wooden pick inserted in the center comes out clean. Cool 10-15 minutes in pan on a wire rack; remove from pan.