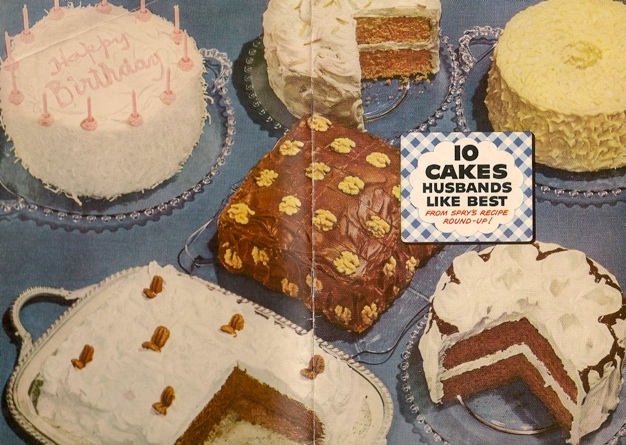 This cookbook was published by Lever Brothers under their Spry brand. Spry was a brand of vegetable shortening starting in 1936. It competed with Crisco. It's been discontinued, but was more popular than Crisco in the 1950s.
Spry published this booklet, "10 Cakes Husbands Like Best," in 1952.  I am not a fan of many mid-century cookbooks unless they contain a lot of baking recipes. Otherwise, I tend to skip right over them with the exception of cookbooks published by popular brands such as Campbell's, Eagle Brand, Jell-O, Gold Medal, etc. But I thought this little cookbook was funny just because of the title.  And I'll admit, I own all of the Spry cookbooks. They're hard to resist.  And they fit my criteria. haha.
Aunt Jenny was busy in the 1950s helping Spry with marketing and there are a lot of these cookbooks still available. I see them often.
She was featured in the following cookbooks:
Aunt Jenny's Favorite Recipes
Aunt Jenny's Cookies Cookbook
Aunt Jenny's Recipe Cookbook
Aunt Jenny: Home Baking Made Easy
Good Cooking made Easy, Spry the flavor saver